Recently, I ventured out of Asia for the first time and explored England and Europe. I was filled with excitement and the memories I made were truly unforgettable.On this occasion, I took on the challenge of a self-driving tour with my besties. From planning our route to renting the car and overcoming obstacles, my experience as a novice driver (in overseas) was a valuable learning experience. If anyone is dreaming of embarking on their first European self-driving tour, my story may provide some interesting insights!
Navigating Car Rental Reviews:
Tips for Making Informed Decisions
I've gone on a few self-driving trips in Japan, but this was my first time doing it in the UK! While researching car rentals, I found that the major rental companies include Avis, Europcar, Sixt, Hertz, Enterprise, and others. You can search for them on the rental company's official website or use various rental platforms like Rental Car, Klook, Expedia, Agoda, Trip.com, and more to compare prices.
When choosing a rental car, we prioritized the pickup location and also took into consideration the amount of luggage we had, and selected a suitable car model accordingly. We ended up opting for a midsize SUV as our vehicle of choice. However, selecting a car rental company was a bit challenging as we discovered that even the largest chain car rental companies had negative reviews from Hong Kong customers. When I searched for reviews in English, the ratings made me feel very worried and gave me a headache.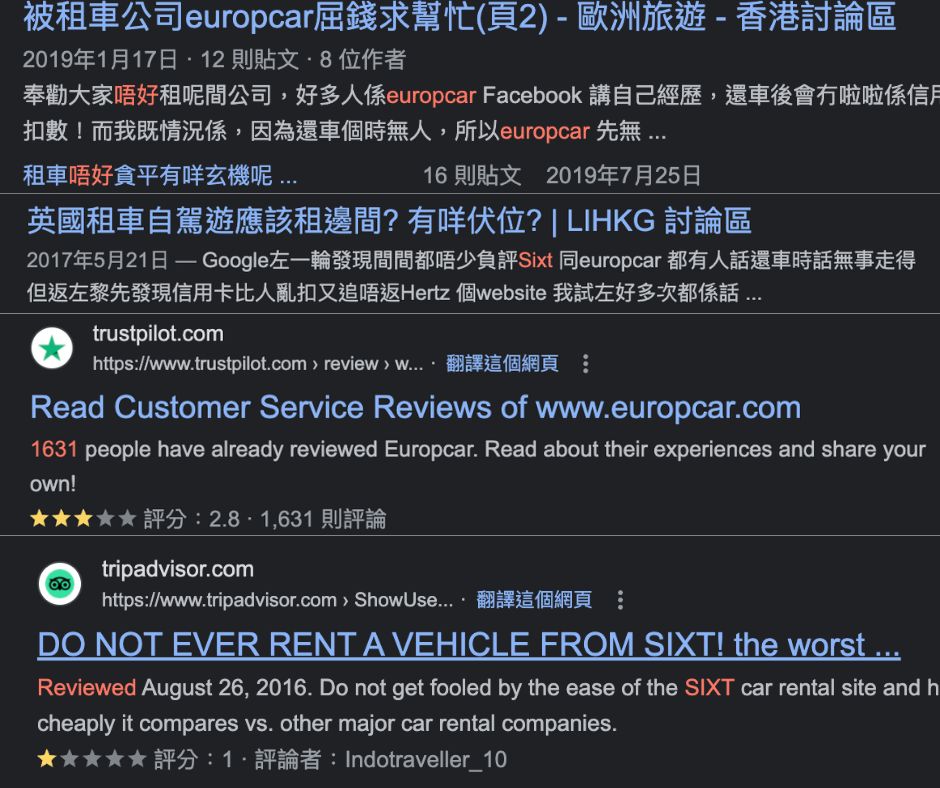 Renting a car can be a daunting task, especially when faced with mixed reviews across almost all car rental companies. As a novice, it is only natural to feel concerned. However, as even the largest car rental companies have negative reviews, we decided to take a chance and try our luck. This led us to the next challenge: the type of gearbox. The majority of car models in the UK have manual gearboxes, with automatic models being relatively rare and more expensive. Nevertheless, as our all-female group was more familiar with automatic gearboxes, we opted for an automatic SUV from Europcar.
Another critical factor to consider when renting a car in the UK is the minimum age and driving experience requirements. Typically, drivers must hold a valid driving license for at least one year and be over 21 years old. Some rental companies may charge an additional fee for drivers under 25 years old. For instance, Sixt charges an extra £36 per day for drivers aged 21 to 24 years old, which must be paid in person at the rental location. Fortunately, this was not a concern for our group as we were all over 25 years old.
Exploring Tourist Goods in Old Towns
It takes around 5 hours by car to travel from London to Edinburgh. After settling in, we explored the castle and ventured into both Old Town and New Town. Edinburgh Waverley train station is a popular tourist hub, featuring the iconic Royal Mile in Old Town and the stylish New Town area.
Old Town's main street is home to numerous historic churches and buildings. However, every few shops are filled with whisky specialty stores, each showcasing a wide selection of Scottish whiskies. For those who struggle with decision-making, it's best to brace yourself for the overwhelming variety. Since we didn't have much knowledge about whisky, we primarily focused on sightseeing and limited our whisky purchases due to baggage restrictions when returning to Hong Kong.
Remarks: For travelers over 18, a handy tip is that you can bring up to 1 liter of alcohol with an alcohol content over 30% into Hong Kong duty-free, as long as it's for personal use and measured at 20°C.
Aside from Scottish whisky, Edinburgh is renowned for its Kashmir wool products. Many shops sell woolen hats, gloves, and sweaters, although their appeal may vary for those from places with milder winters like Hong Kong. These items still make great gifts for loved ones, but keep in mind that most shops target tourists and may not offer the best prices or styles. It's best to compare prices and styles before making a purchase.
While strolling through Old Town, you'll come across Saint Giles' Cathedral, which may lack the ornate decorations of Westminster Abbey but exudes an old-world charm. Built in 1124 and rebuilt in 1385 after a fire, it has a rich history.
Despite having limited time on our first day, there are various experiences and exhibitions to indulge in Old Town, including The Scotch Whisky Experience, the Museum on the Mound, and the Writers' Museum. The Edinburgh Castle is a must-visit attraction, but we arrived late in the afternoon and missed the last admission at 5 pm. By 4 pm, tickets were already sold out, leaving us with a view from outside and a hint of regret for not planning better.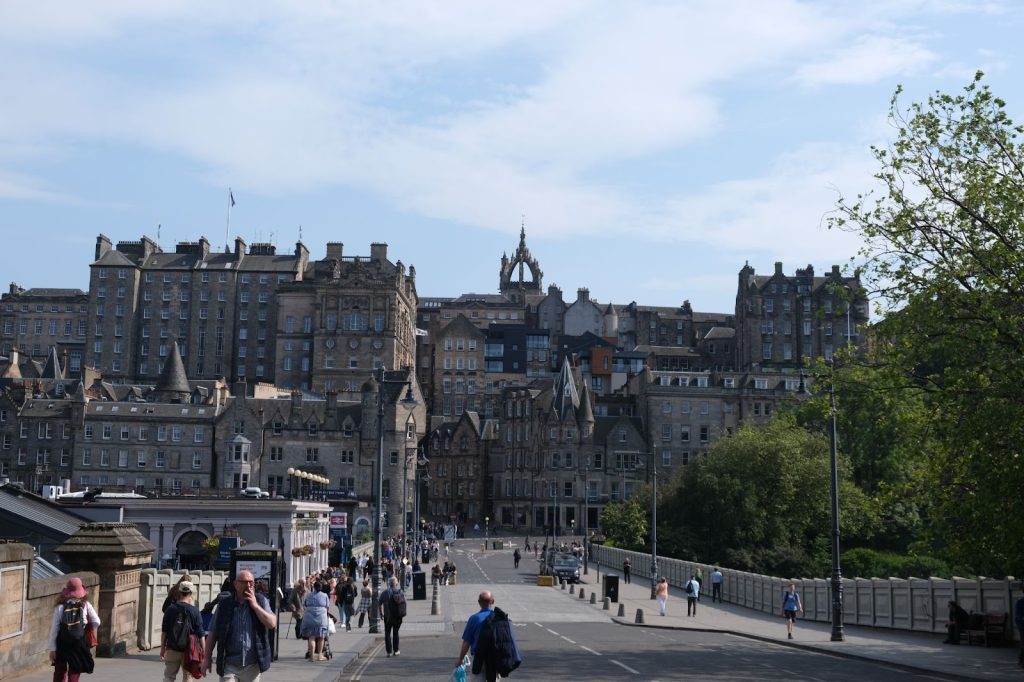 Edinburgh's Old Town architecture exudes a profound sense of history.
As we walked towards the new town, we passed by a bar with Live Busking and saw people enjoying themselves. Continuing on to Wangzi Street Garden, we noticed many people basking in the sun and enjoying the beautiful weather on the grass. Seeing the locals' relaxed lifestyle made us think back to our lives in Hong Kong and we couldn't help but feel envious.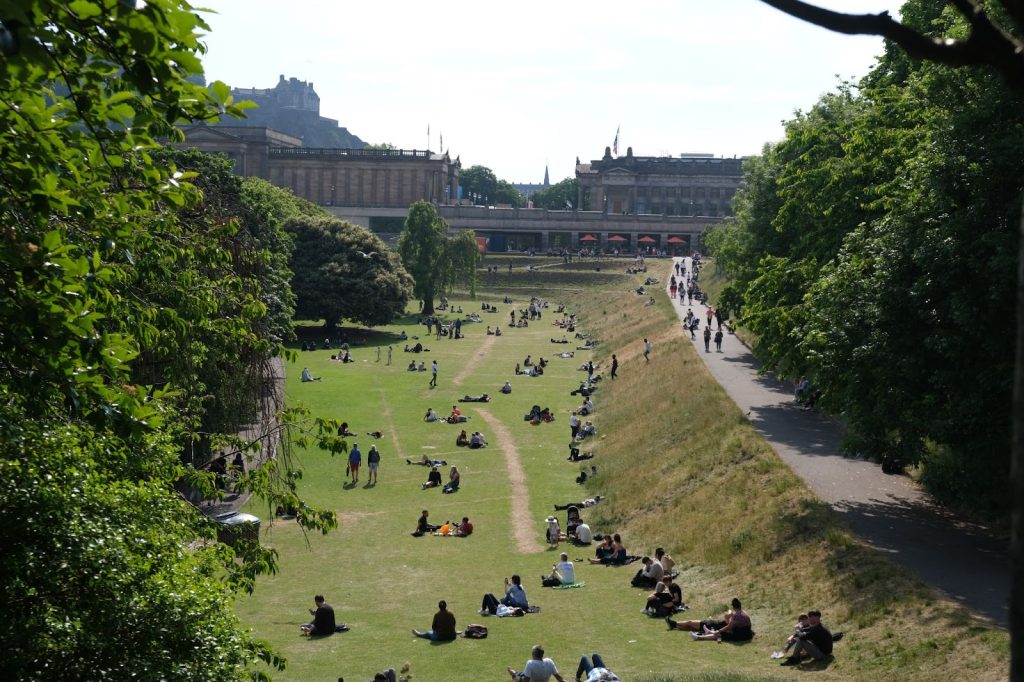 我也在王子街的露天酒吧買了手工啤酒歇一歇。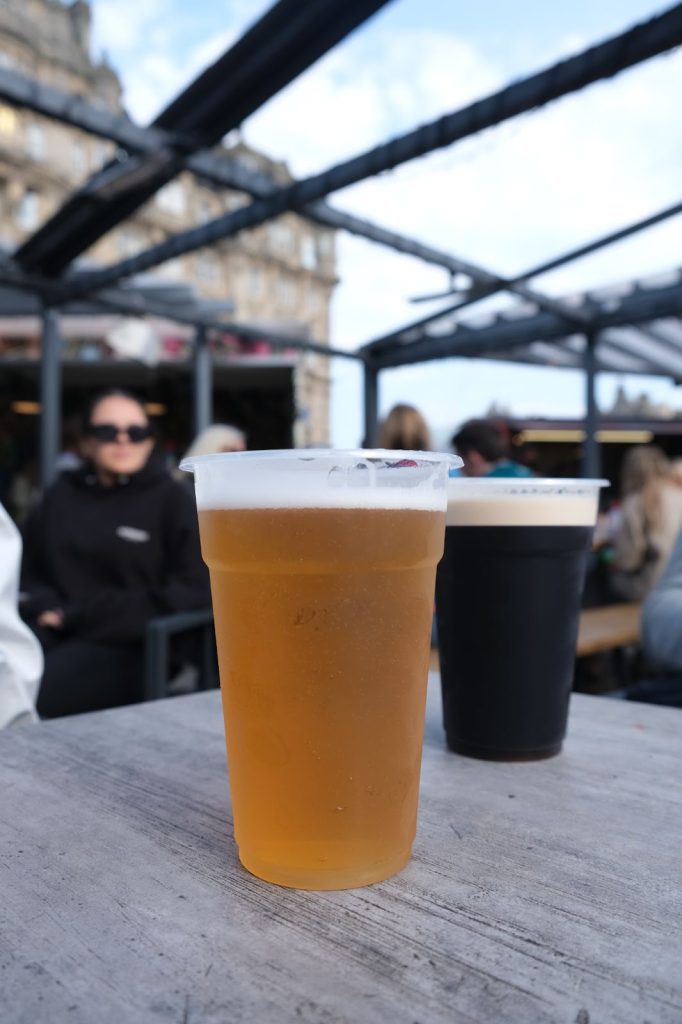 We took a stroll down Prince Street in the New Town area, where international stores such as Marks & Spencer and H&M are the main attractions. Walking along Prince Street from the train station, we eventually reached the Grassmarket and the Scott Monument – a Victorian Gothic tower erected in honor of famed Scottish writer Sir Walter Scott.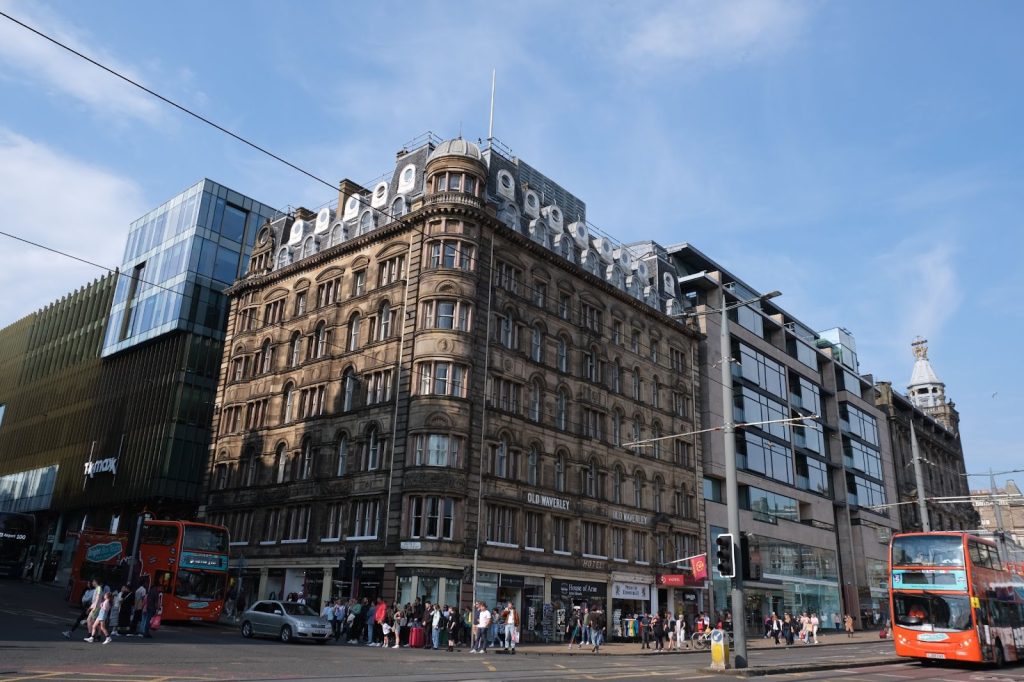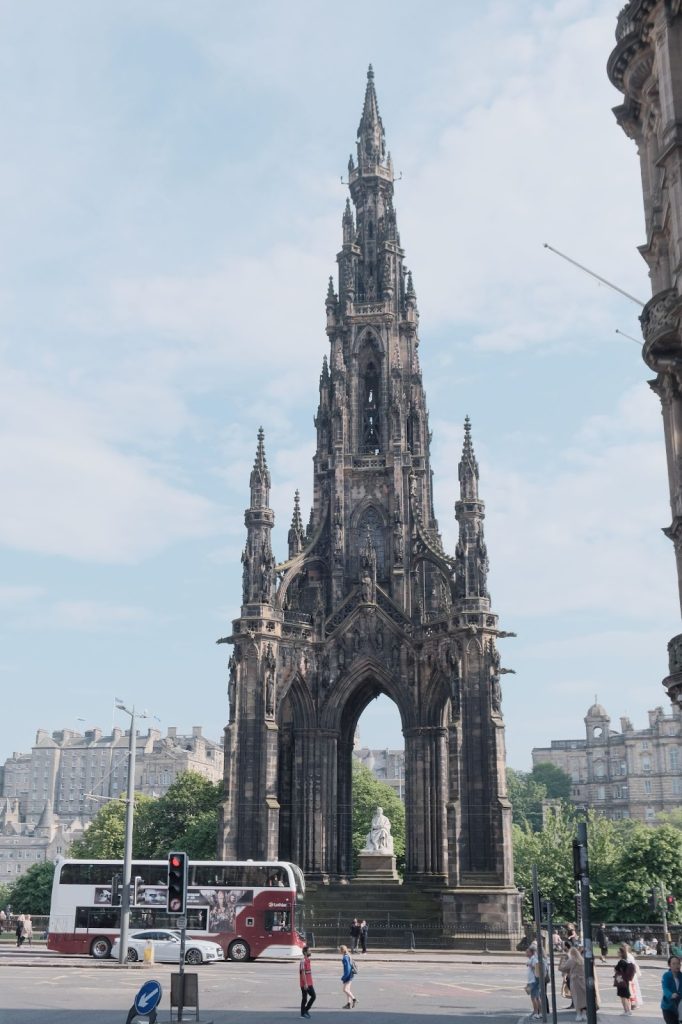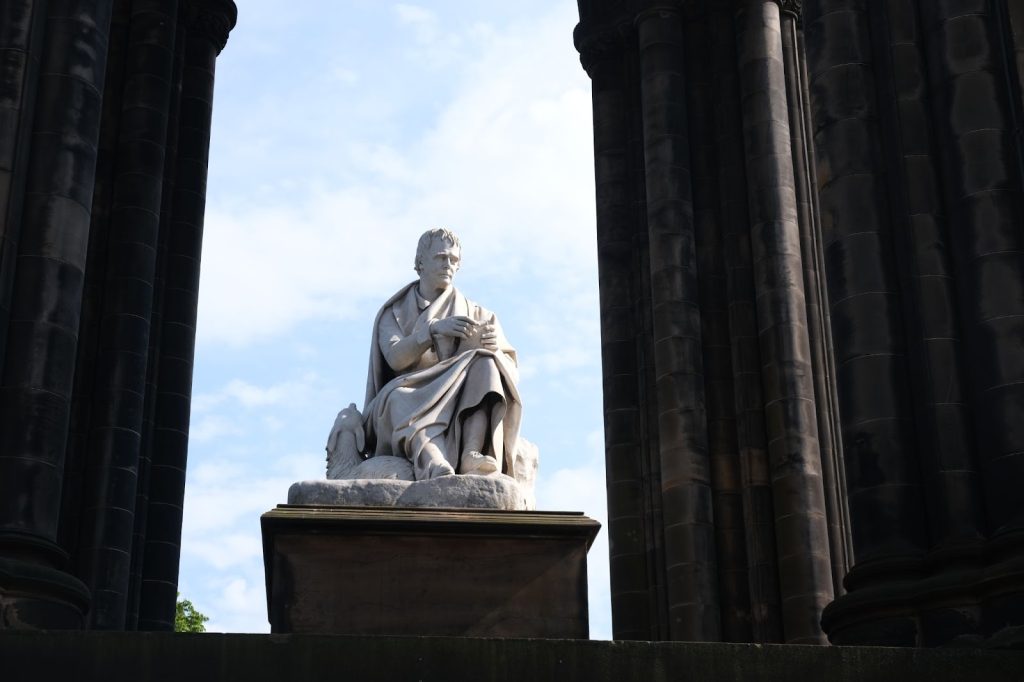 On our first day, we explored both the New and Old Towns before heading back to the hotel for an early dinner and some rest. We knew we had a long drive ahead of us the next day, so we needed to prepare ourselves.
When renting a car, it's common for rental car companies to provide a designated or similar vehicle based on availability. As expected, we were given a SEAT SUV instead of the originally selected car. It was a new vehicle, and it seemed suitable for our needs.
After carefully inspecting the car and confirming that all documents were in order, we began our journey to the Highlands. The process was smoother than we had imagined, and the service staff were friendly and helpful. We received a warm smile when they confirmed that our car was an automatic transmission. Then, we embarked on a five-hour drive through Linlithgow and Bridge of Orchy before taking a short break at Loch Leaven to admire the stunning natural scenery.
After lunch, we headed to our main destination of the day – the Glenfinnan Viaduct, famously known as the steam train featured in the Harry Potter movies. The breathtaking landscapes along the way were unforgettable and left a lasting impression on us.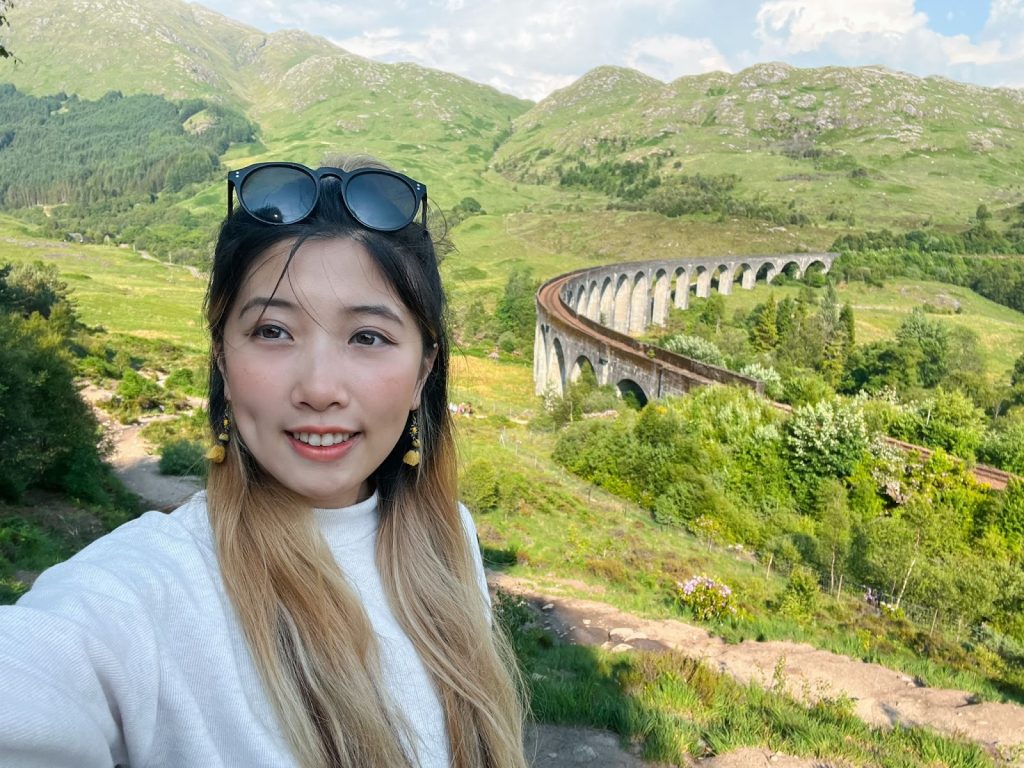 We arrived at approximately 4:30 pm and walked along a small hill road for about 10-15 minutes to reach the spot where we could "catch" the steam train. To ensure we had enough time, we checked the schedule and tried to time it better.

We arrived at 5:10 pm and likely missed a train that had just passed by (although we didn't see it while walking up the hill). As we waited, more and more tourists joined us in trying to catch a glimpse of the train. After waiting for about an hour and 15 minutes, we finally saw it! Unfortunately, there was no steam (sad face), but it didn't dampen our excitement at finally seeing the train. The view was beautiful. (It was already 6:52 pm by this time.)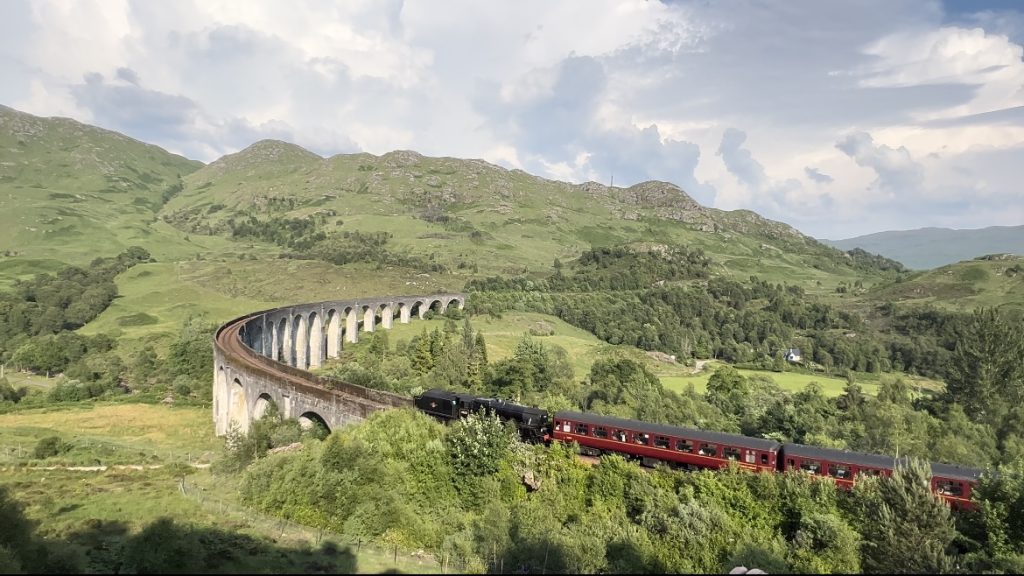 Later that evening, we went to Marks & Spencer to buy some groceries before driving to our Airbnb in Fort William to prepare dinner. We rested early because we had a long drive to Skye Island the next day!
On the third day of our trip, we visited Eilean Donan Castle in Dornie Village, Scotland, which is located near the Isle of Skye. Originally built in the 13th century by the Mackenzie Clan to defend against Vikings, the castle has changed hands several times and was even occupied by the Spanish at one point. It is now privately owned and sits on an island where three lochs meet, connected to the mainland by a stone bridge.
We were able to buy tickets on-site and explore the castle's interior, which has a more modern feel due to it being inhabited by the castle's owners. While photography isn't allowed inside, we were able to learn about the daily lives of the castle's previous inhabitants through the exhibits. The castle's exterior has a historic feel and is truly a sight to behold.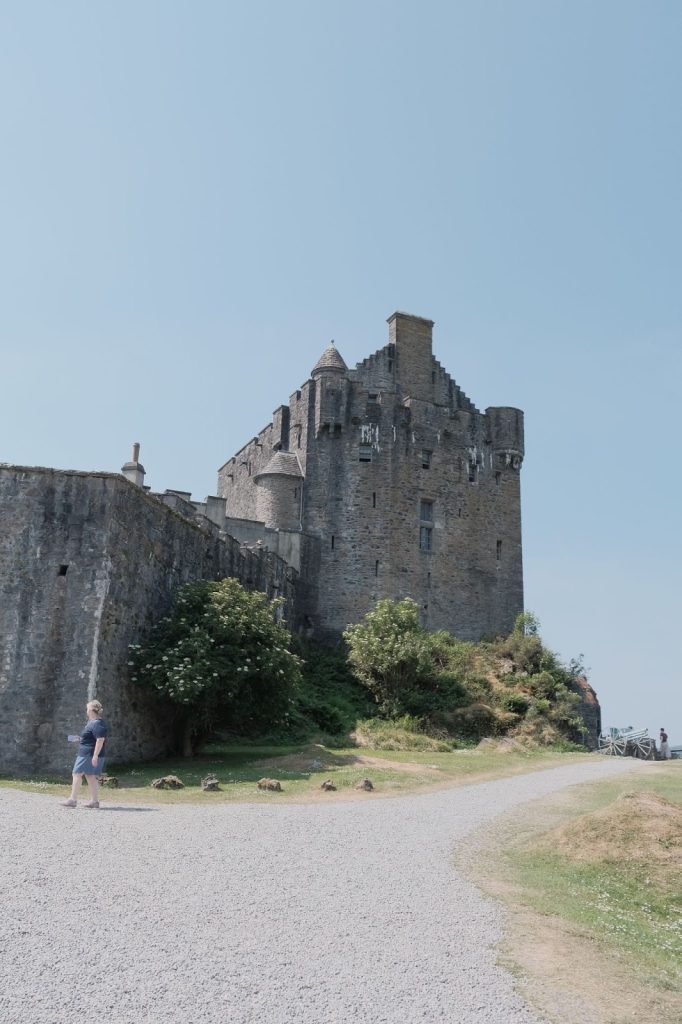 After visiting the castle, we drove to Skye Island to enjoy some seafood and visit the Talisker Whisky Distillery.
Our first stop was The Oyster Shed, where we ordered a small lobster, one small oyster (which was actually smaller than expected), and a cup of lobster soup. It didn't quite live up to our expectations, but perhaps that's because we had previously tried Richard Haward's Oysters in London (no comparison, no harm done). However, the scenery was unbeatable. The vast sea views and natural surroundings were breathtaking!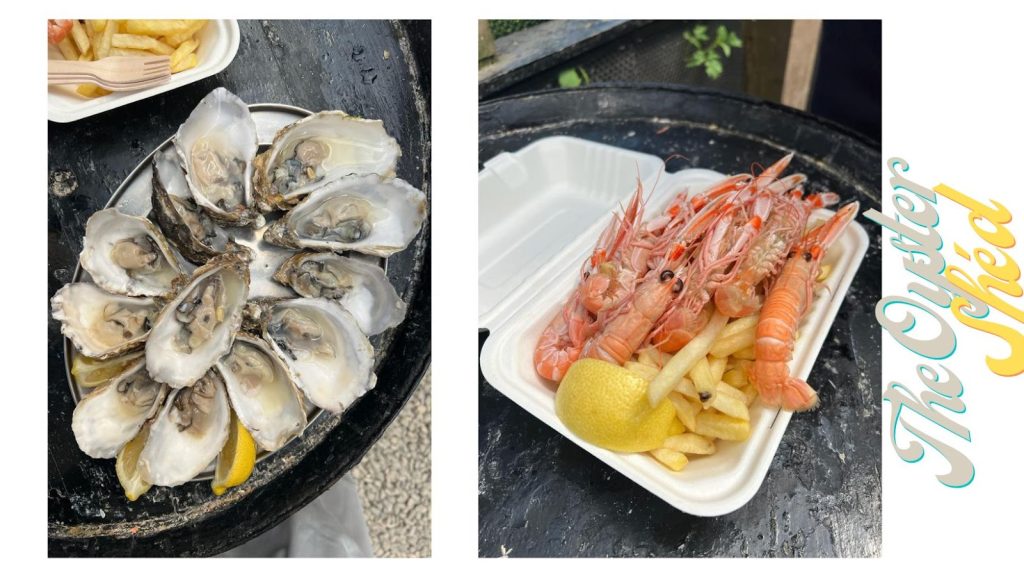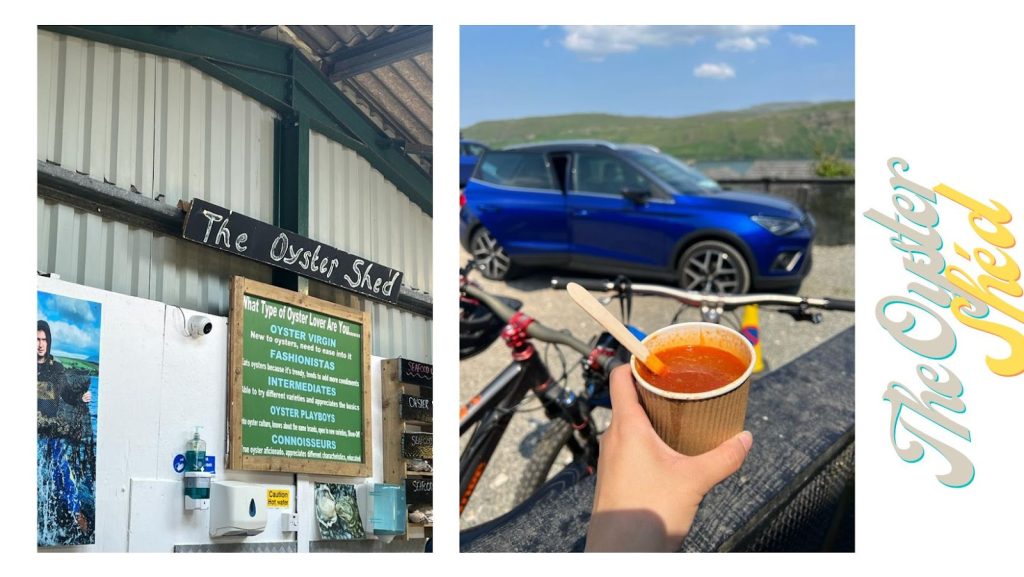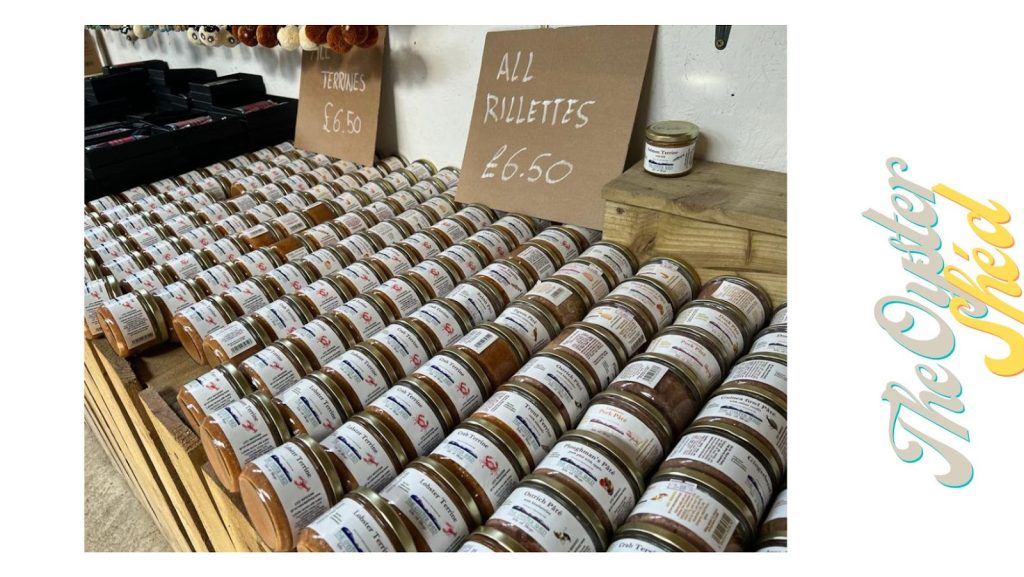 The Talisker Whisky Distillery was conveniently located just a five-minute walk from The Oyster Shed, situated at the foot of the mountain. It's worth noting that Talisker is currently the only distillery on Skye Island and was established by two brothers, Hugh and Kenneth MacAskill, in the Loch of Harport area.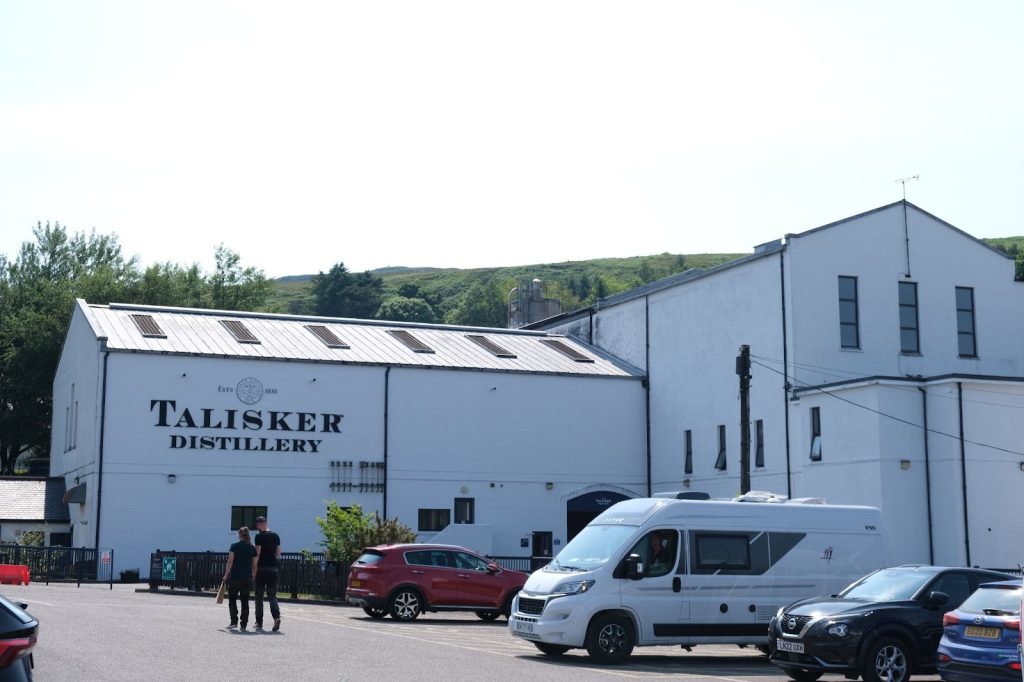 Since we were short on time, we decided to make a quick stop at the Talisker Distillery. The interior decor was stunning, and I especially loved the whisky packaging that featured the ocean – my favorite thing!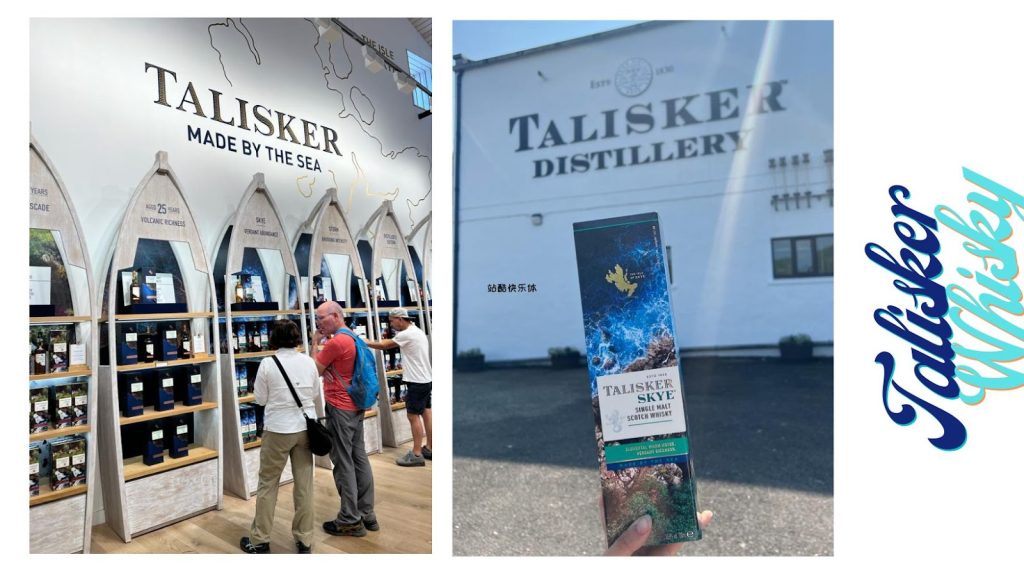 We then made our way to Portree, a charming little fishing port, where we enjoyed some delicious pizza and took a leisurely stroll around town. After a brief rest, we headed to another popular Skye Island attraction – the Old Man of Storr.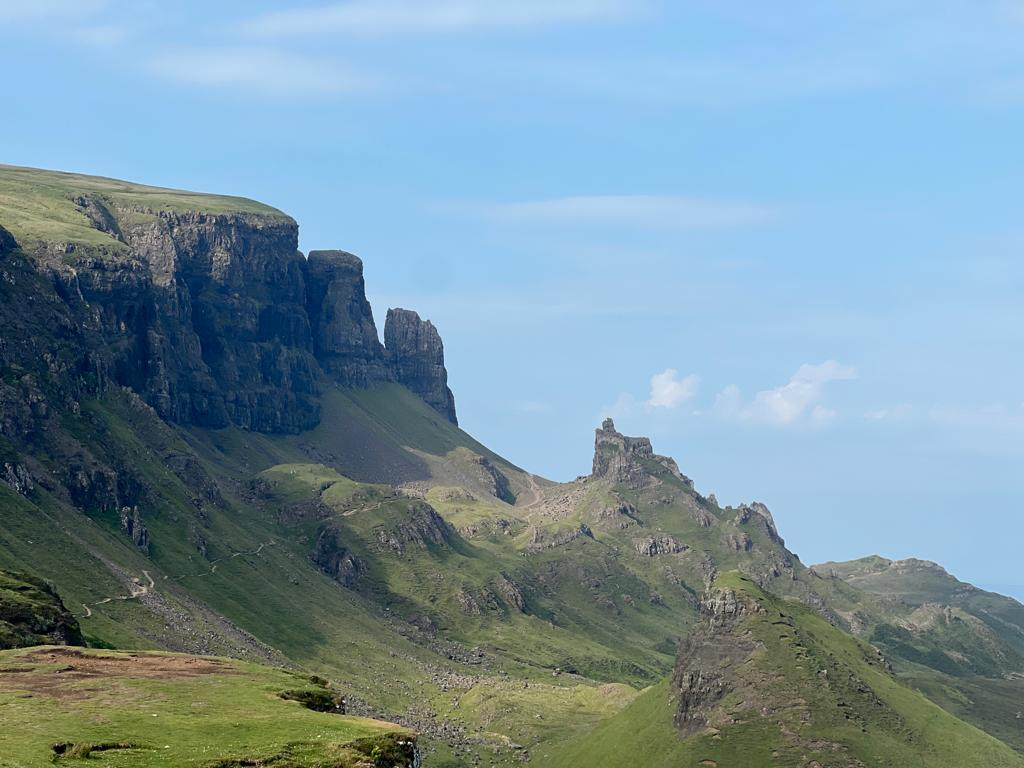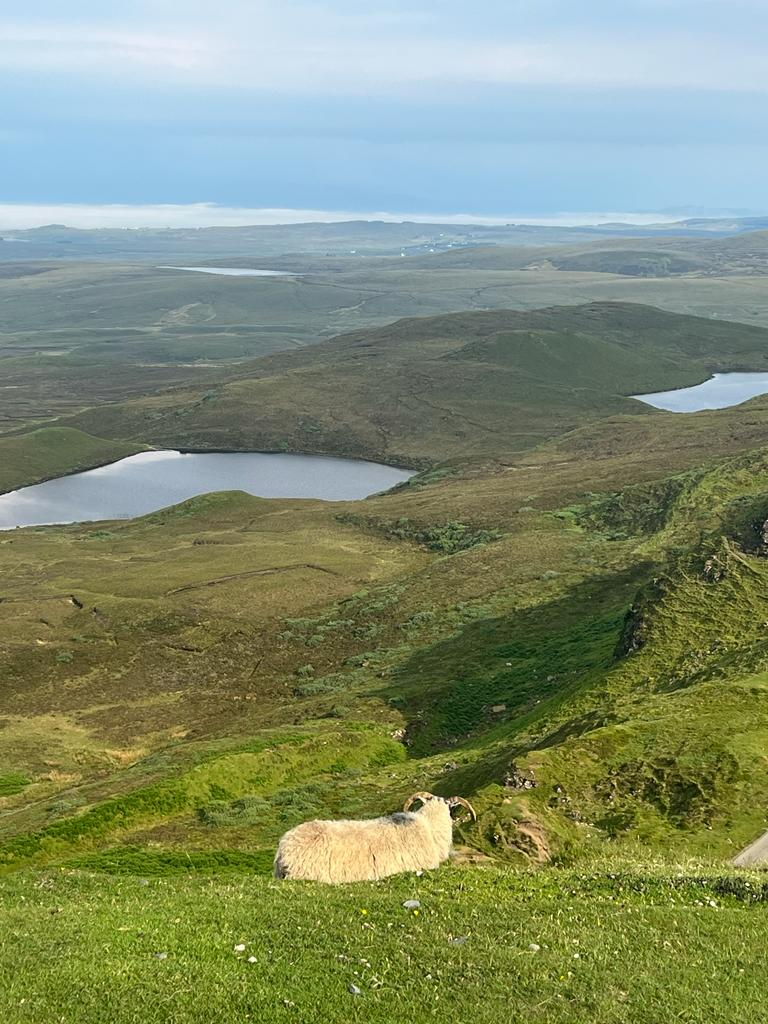 We noticed that the lambs had different colored markings on them and wondered if it was a way for their owners to distinguish them or if there was a special meaning behind it.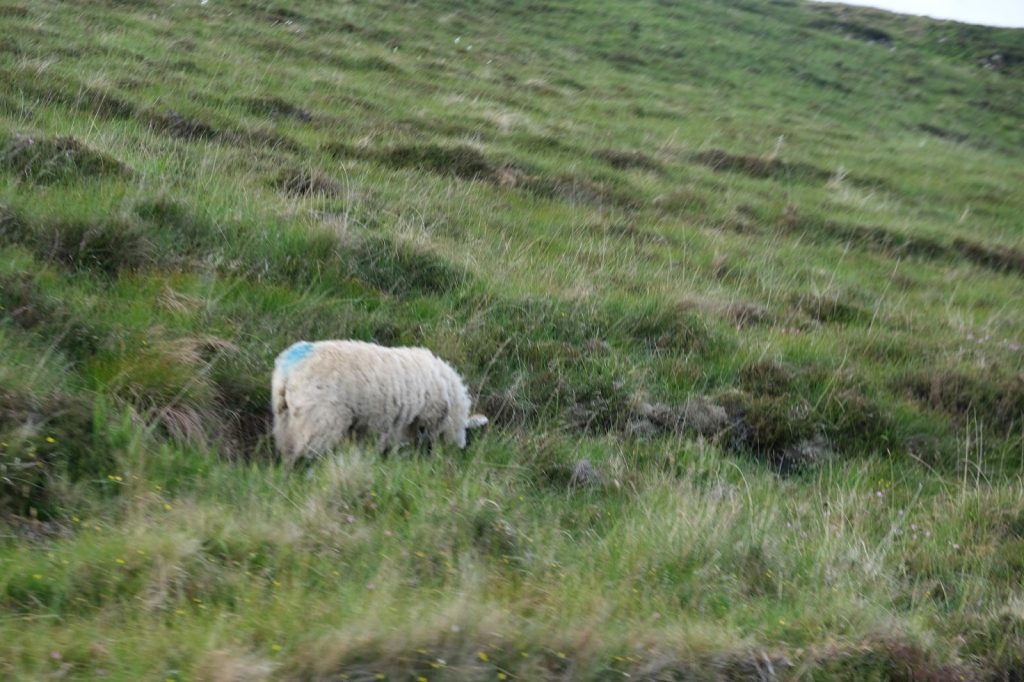 After exploring the Old Man of Storr, we left Skye Island and drove straight to Inverness, which took us just over three hours. We arrived at our Bnb accommodation for the night, where we had dinner and rested up for the next day's adventures!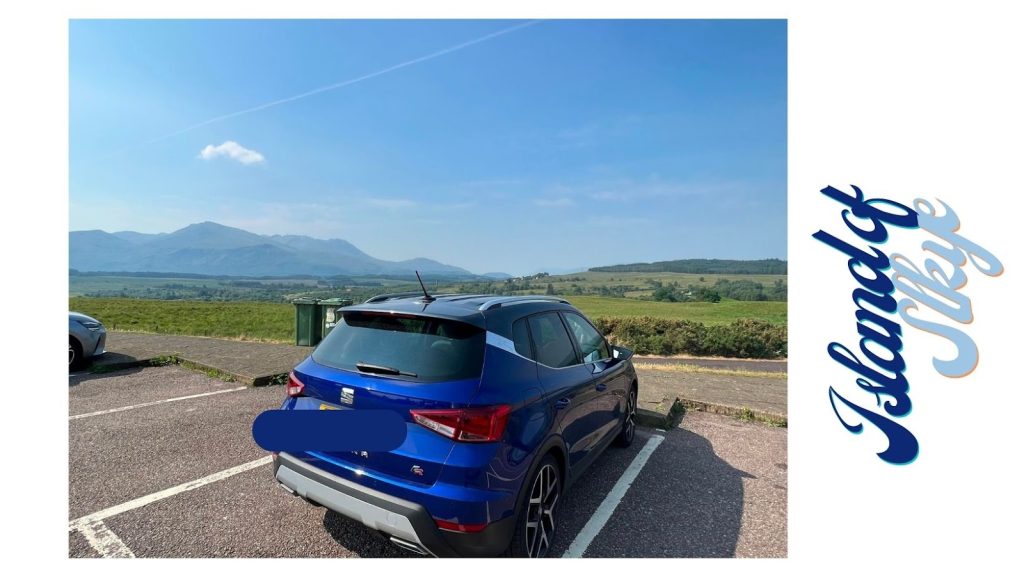 After exploring the Old Man of Storr, we left Skye Island and drove straight to Inverness, which took us just over three hours. We arrived at our Bnb accommodation for the night, where we had dinner and rested up for the next day's adventures!
When I woke up the next morning, I was struck by the stunning view outside the kitchen window of our Airbnb. It looked like a painting come to life, and I couldn't help but admire it for a moment.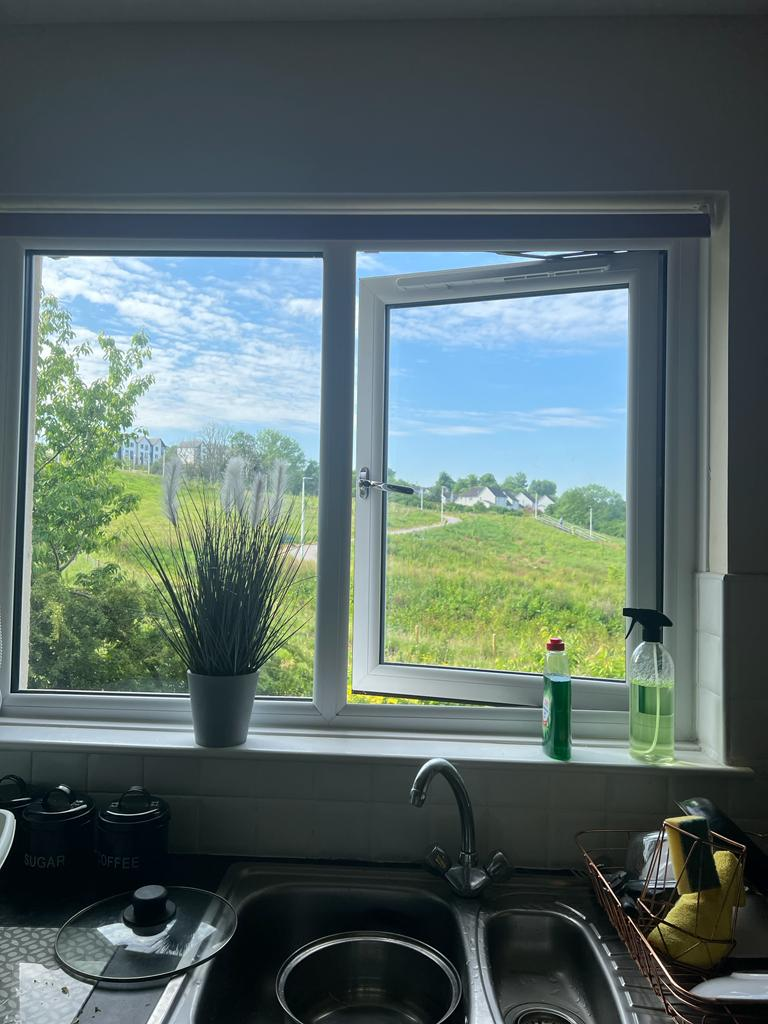 Before returning the rental car, we made a quick stop at Loch Ness. After driving for a little over an hour, we arrived at our sole destination for the day – Loch Ness. The nearby town was relatively quiet with few tourists around.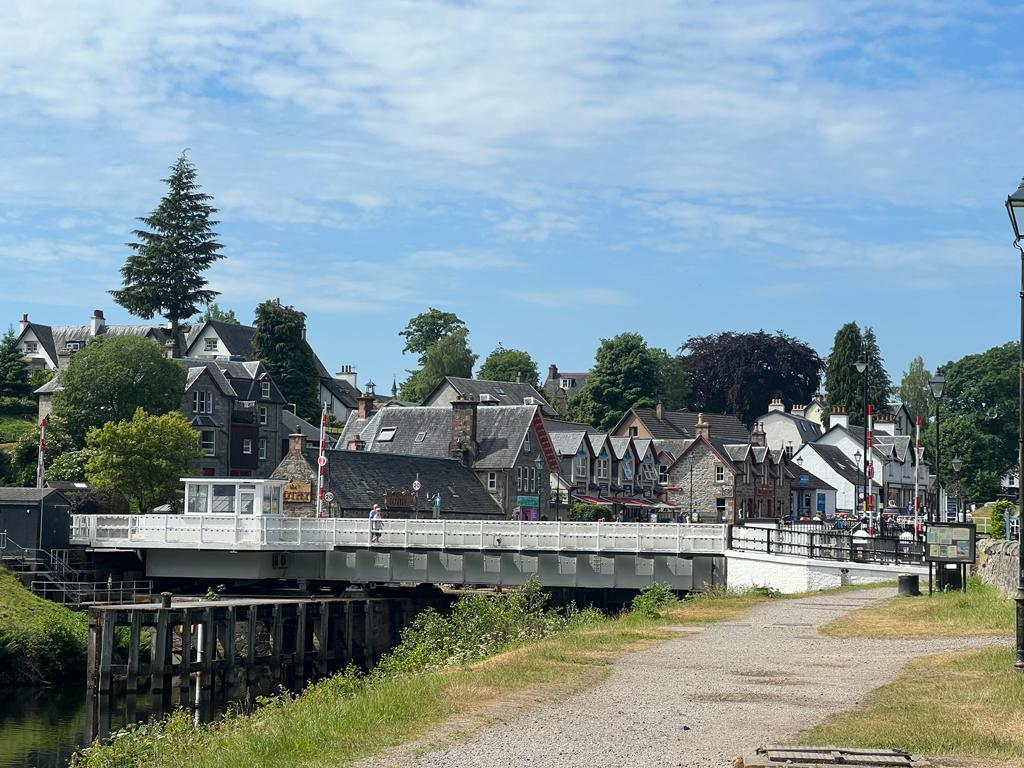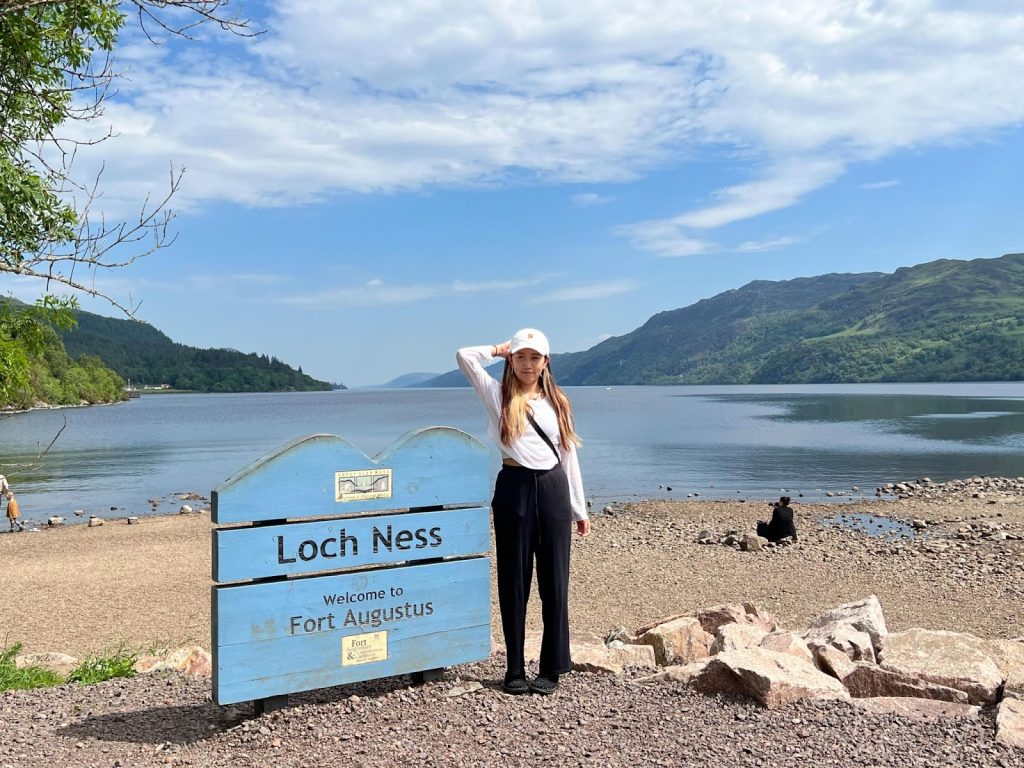 After grabbing some snacks to satisfy our hunger, we hit the road for the 4-5 hour drive back to Edinburgh. We departed around noon and arrived at the rental car company at approximately 5 pm.
Similar to renting a car in Japan, most rental car companies in Scotland require you to return the car with a full tank of gas. This made the return process smooth and hassle-free. It's important to remember to fill up at a gas station on the way back to avoid additional fees or charges. Returning the car was a simple process that only took a few minutes.
Our self-driving adventure had come to an end, and fortunately, we didn't encounter any of the negative situations we were worried about when renting the car. The journey went smoothly, and I personally don't think the route was too difficult for women drivers. However, if there's only one driver, it can be mentally taxing, so it's best to have another companion who can share the driving responsibilities. This way, everyone can enjoy the comfortable ride and take in the scenery together, which is fair for everyone involved.
Driving in Hong Kong can be a challenge due to narrow roads and limited parking. As the saying goes, "If you can drive in Hong Kong, you can drive anywhere!" However, during our recent self-driving trip in the Scottish Highlands, the most difficult and nerve-wracking moments were mostly limited to the single-lane roads leading to some of the more remote destinations. Driving on these roads required careful attention to speed and awareness of oncoming traffic, but with focus and composure, it was a manageable challenge.
The benefit of self-driving is being able to visit more remote locations that may be difficult to access otherwise. Although we set out with the intention of visiting specific destinations, our first-time experience of self-driving in the Highlands was more about the freedom and convenience of driving, and the constant surprises and breathtaking scenery along the way. Sometimes the journey was even more exciting than the destination itself. In contrast to driving in Hong Kong where there are many concerns to consider, the Highlands offered endless open landscapes and a sense of freedom to explore. – Editor
Even though our trip was short and we had to rush through some of it, we were able to see many new and exciting things, from renting a car to visiting the Isle of Skye in the Scottish Highlands. Contrary to our initial concerns, self-driving was not as difficult as we had imagined. Fortunately, the long daylight hours during the summer season in the UK made driving during the day much easier. Overall, we had a great experience and would definitely consider coming back for a more comprehensive exploration of the area.
Source:westcoastrailways.co.uk