Following the previous assignment of dispatching BBOLD representatives to learn about stand-up paddle boarding, the BBOLD representatives are now facing a new challenge: snowboard skiing! As winter approaches, many people plan to travel abroad to destinations such as Niseko and Hakuba in Japan, or ski resorts in Korea, Europe, and America. However, skiing is a sport that requires a high level of skill and can be quite dangerous, so it is advisable to receive professional training before attempting it. Lack of basic training can result in accidents and injuries while attempting to ski during a trip.
Since most trips only have a few days for practice, it is often insufficient time to develop the necessary skills. So, how can we practice skiing basics in Hong Kong? The BBOLD representatives have invited SNOW & SURF, an indoor sports instructional experience center in Hong Kong that opened last year to collaborate. They offer indoor skiing and indoor surfing experiences, where you can rent equipment and even make purchases. This way, you can learn skiing and get your gear ready for your next trip all in one place.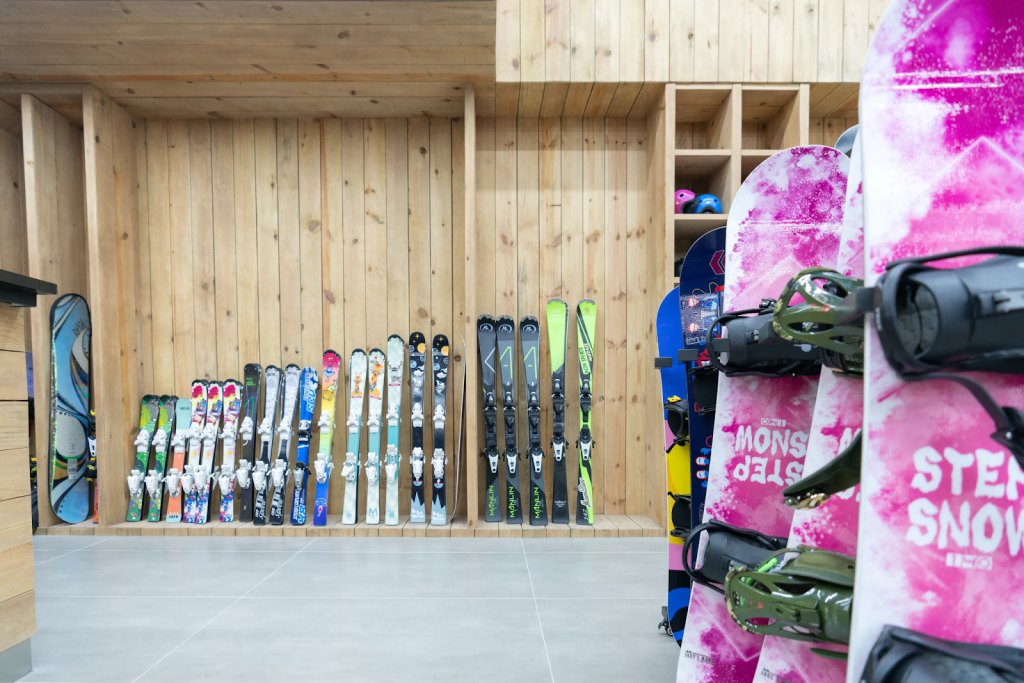 Both representatives  are experiencing skiing for the first time, and they seem more excited than nervous this time. Coach Angus begins by giving them a detailed introduction to the equipment, then proceeds to teach them how to put on the ski boots with the Boa lacing system. The coach explains, "When it comes to boots, you have options with traditional laces or the Boa lacing system. The advantage of Boa is its quickness in putting on and taking off. Simply pull it open and slip your foot in. Once on, tighten the Boa by twisting the dial, and it will secure the boot. It's incredibly convenient. Boots also come in different flexibilities. For beginners, it is recommended to choose softer or medium flex boots rather than ones that are too stiff."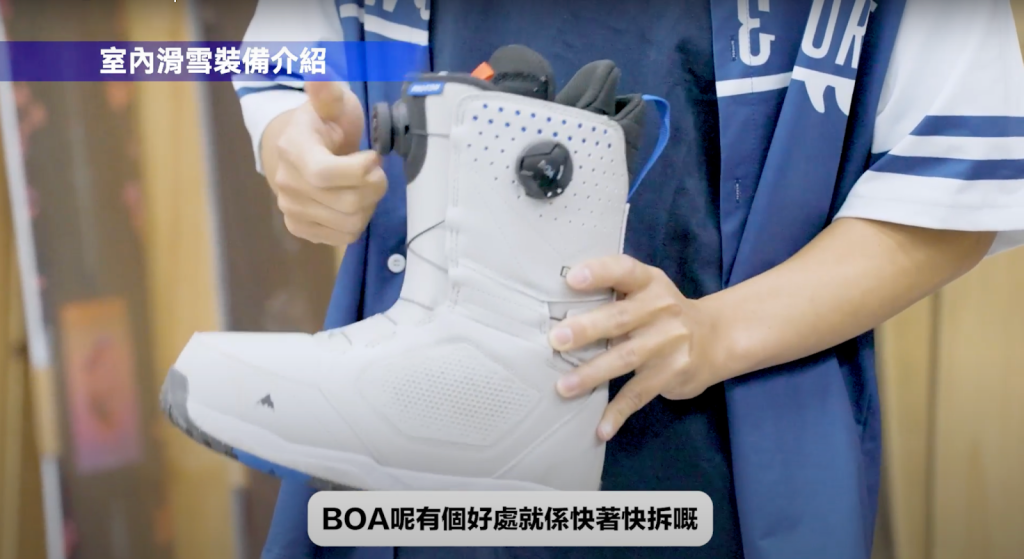 After putting on their ski boots and learning how to put on a snowboard, the two skiing novices, Kylie and Kate, took to the slope. They started by practicing on flat ground, putting on one snowboard and using their other foot to push and move slowly. They quickly realized that skiing requires a high level of balance, and at first, they could only take small, cautious steps.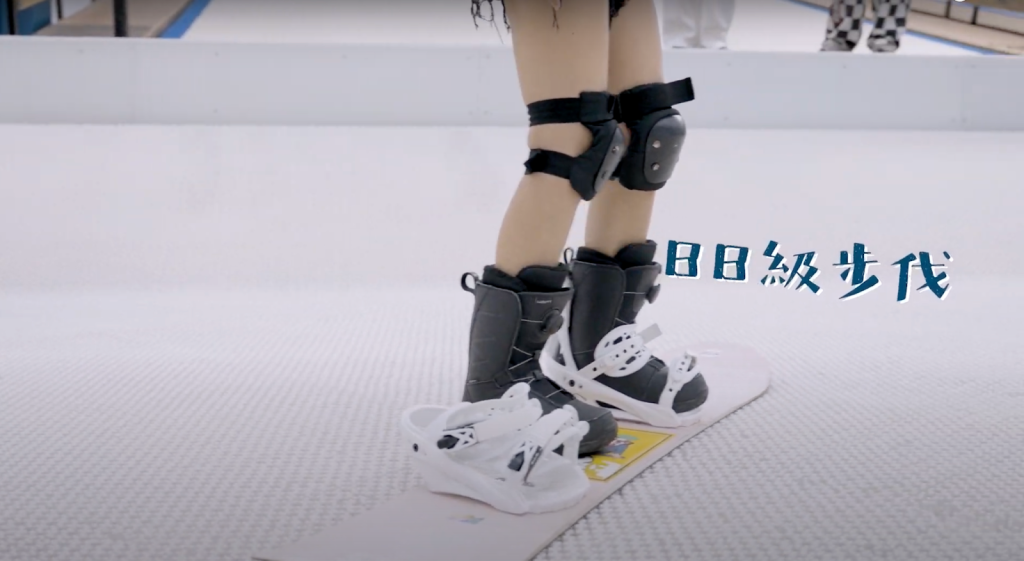 As they gradually gained balance, they were able to take bigger steps and move further. The two test pilots became more engaged as they began to get the hang of it. Next, Angus taught them another move – lifting the snowboard. Kylie struggled a bit with this move, but it turns out that this move is meant to teach them how to control their speed on a slope.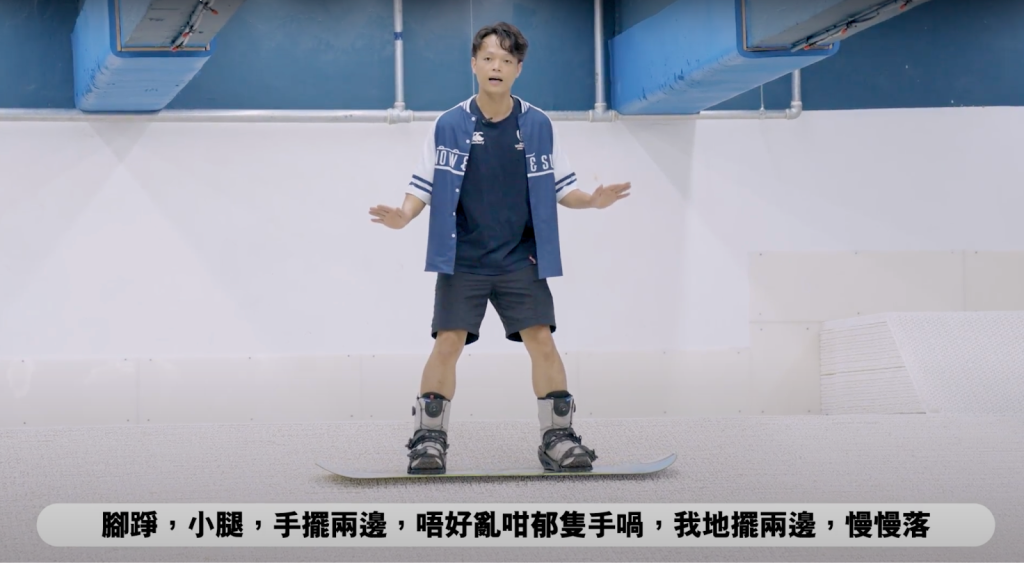 To practice on a slope, you first take the ski lift up to the top with your snowboard. When learning how to slide down the slope, beginners tend to focus too much on their legs due to nervousness. The coach instructed them, "When sliding down the slope, remember to look ahead instead of looking down. Keep your center of gravity low and take a few steps forward. Repeat this motion slowly until you get the hang of it."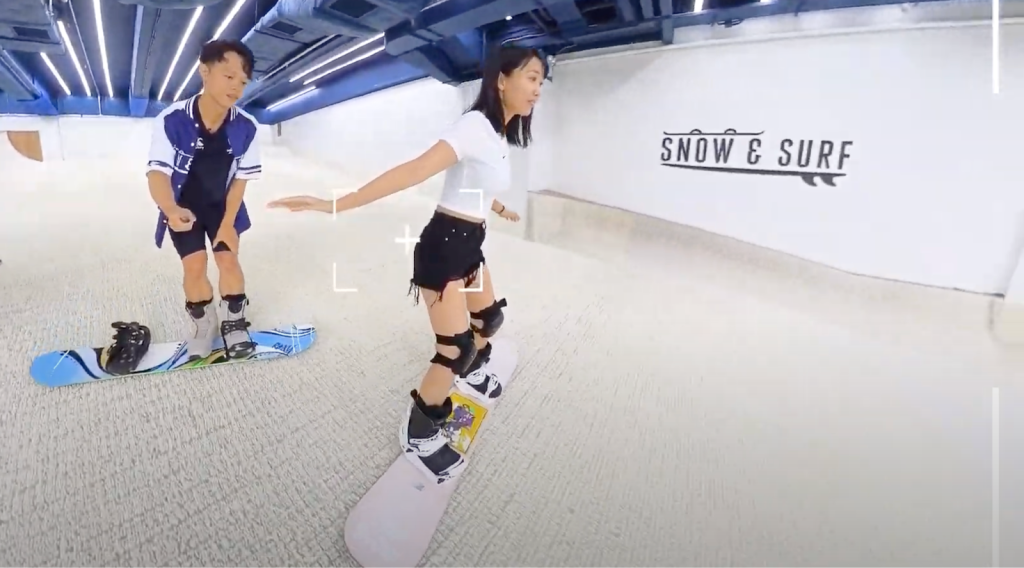 Although they were clearly nervous and scared, the two test pilots remained focused and worked hard on each movement during their practice.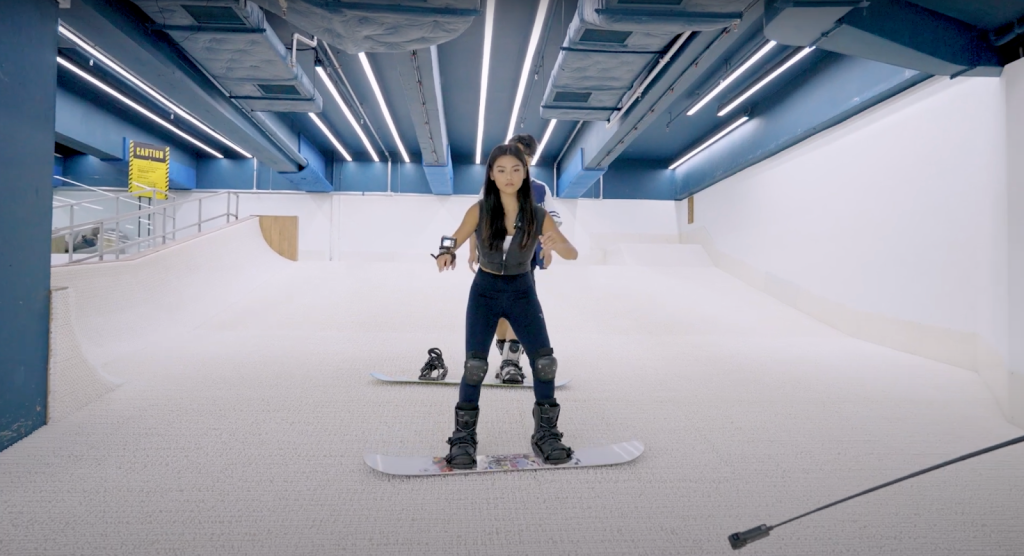 Kylie also managed to slide down the slope slowly on her own, experiencing how to control her descent and apply brakes. She hopes to remember this sensation and continue practicing diligently.
After mastering speed control and braking on the slope, they relocated to the ski machine to further practice basic skiing maneuvers such as braking, ascending, and descending.
Once the ski machine started, it continuously propelled them upwards, relying on their heels to make contact with the snowboard and the ground. The coach explained that their center of gravity should be on their heels, as if sitting on a chair. They were advised to maintain core stability while engaging their quadriceps and glutes. On the other hand, when using their toes to make contact with the snowboard and the ground, their bodies leaned forward.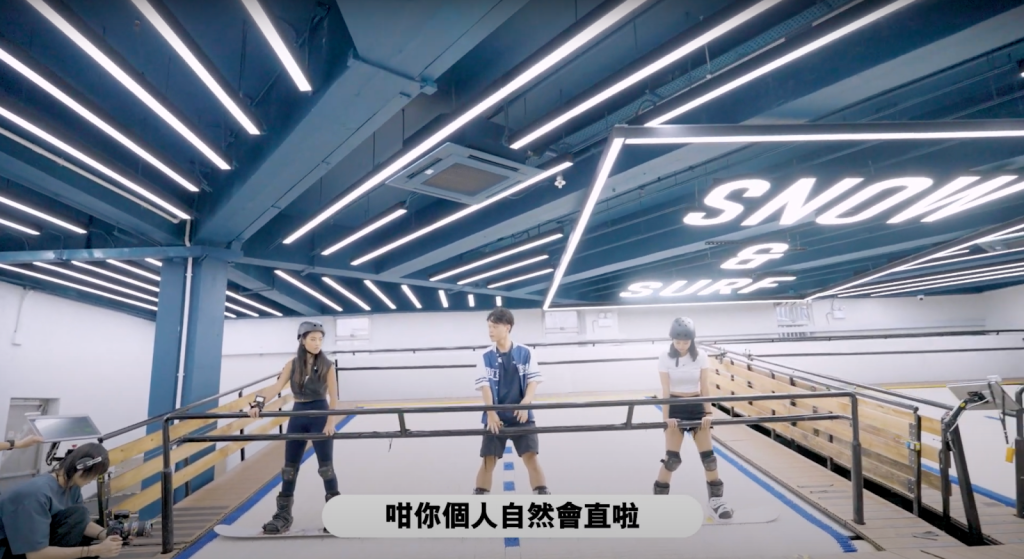 After the coach's demonstration, Kylie and Kate were encouraged to try controlling their movement as they ascended. However, they found themselves either stationary or unintentionally moving forward. Kate couldn't help but exclaim, "Why am I constantly moving forward?" Despite her desire to move backward, her body remained in place or continued moving forward, seemingly struggling to gain control.
Both trainees appeared deeply focused during their practice sessions, as if their souls were transcending their bodies. They seemed to be genuinely contemplating how to control the muscles in various parts of their bodies. It was evident that it wasn't an easy task and couldn't be mastered in just a day. However, first and foremost, Kylie and Kate bravely embraced the challenge.
After repeated practice, Coach Angus demonstrated the "Falling Leaf" technique, which involves shifting the weight from side to side while traversing the slope. This technique is useful for controlled descent on inclines or mountains. Additionally, the coach briefly showcased maneuvers such as "J-turns" and "S-turns."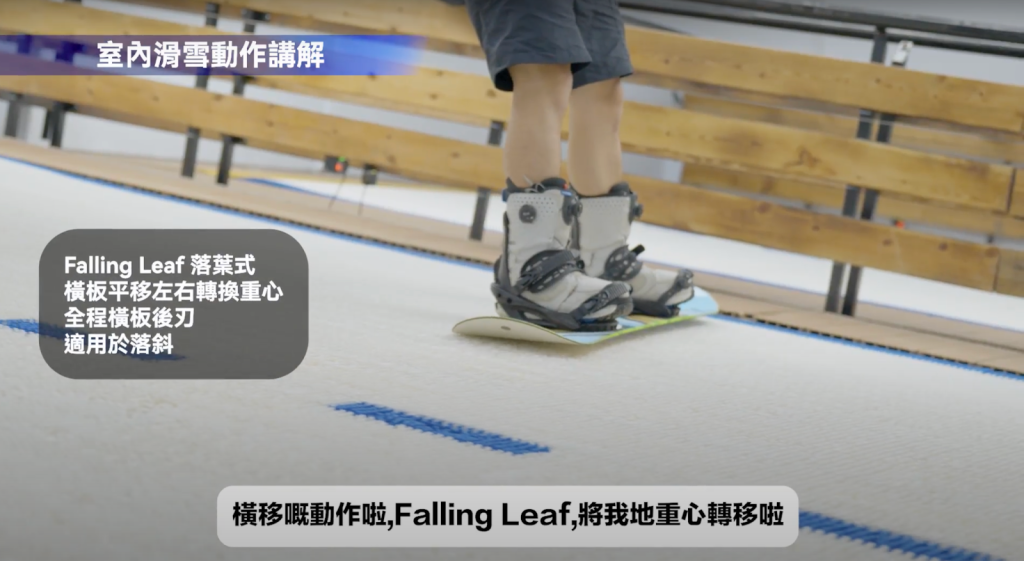 During the challenge, both Kylie and Kate realized that observing others make it appear effortless was vastly different from executing the movements themselves. As beginners on the slope, they struggled to maintain control.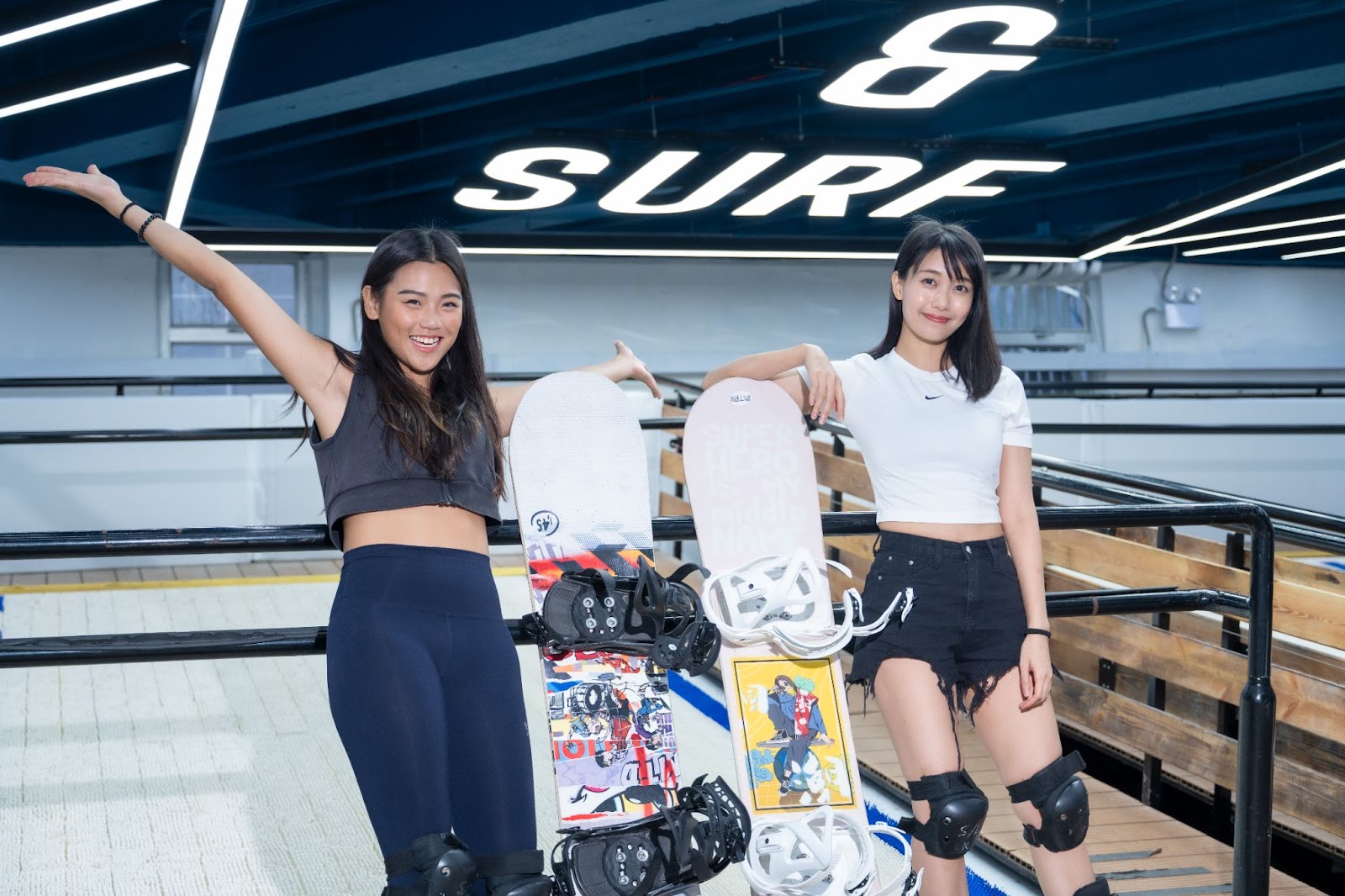 If you're keen on trying indoor skiing for the first time, consider visiting SNOW & SURF Indoor Skiing Center. Each reservation grants you 55 minutes to utilize the facilities, including the ski slope and ski machine. SNOW & SURF offers group lessons for both snowboarding and skiing, with a maximum of 4 students per class and each session lasting 55 minutes. You can select an appropriate course based on your skill level. Curious to witness how our intrepid trainees, Kylie and Kate, fared during their practice? Watch the video now!