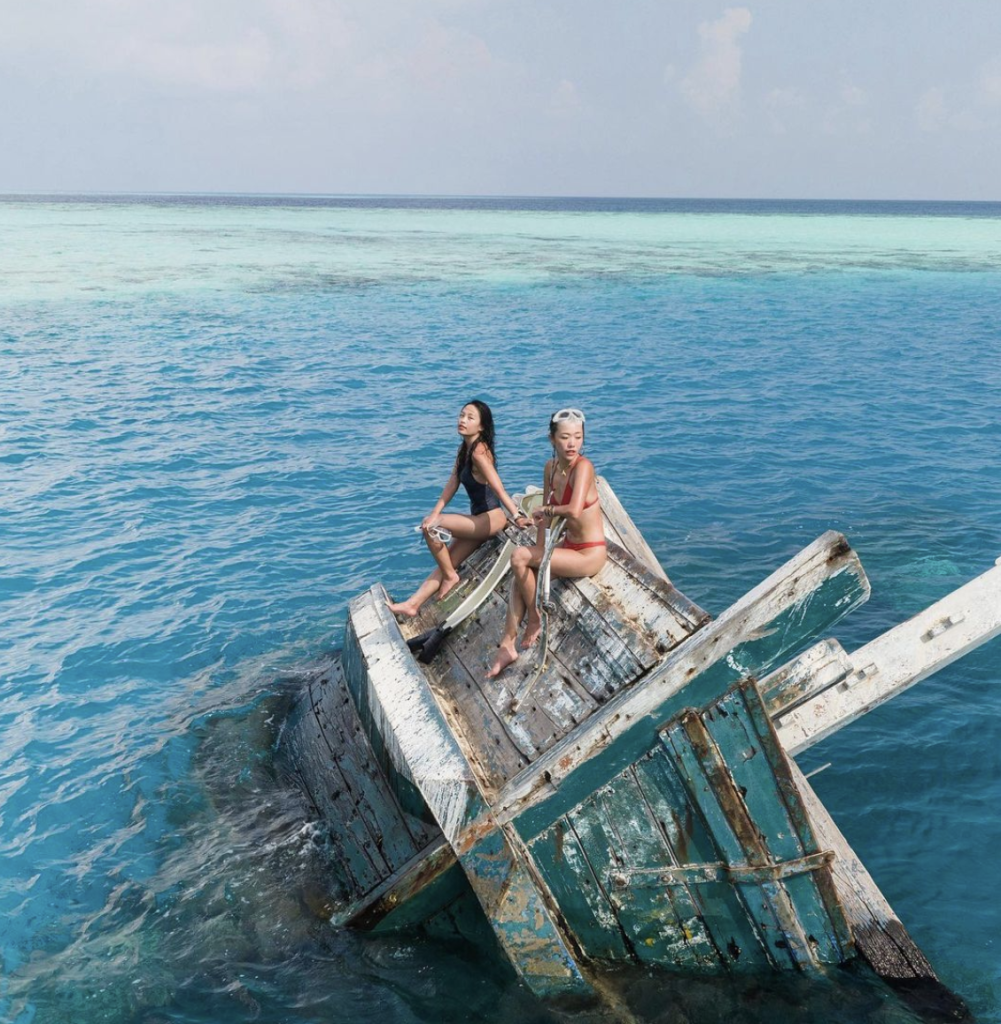 For many young people in Hong Kong, being a travel YouTuber is a glamorous and adventurous dream job. However, nowadays travel YouTubers can be categorized into various types. Today, I would like to share one of my favorite YouTuber in recent years – Celine and Cynthia – 不只是旅行. These two Taiwanese girls focus on outdoor activities such as hiking and diving. While Cynthia loves mountains and hiking, Celine adores the sea and diving. Cynthia takes Celine on camping and hiking trips, and Celine takes Cynthia on water adventures like diving. Together, they explore the world and share their experiences with their viewers.
They share their definition of 'not just travel:
"Traveling has become a way of life for us, and we simply share what we love with everyone. Life has its ups and downs, its beauty and its ugliness, its joys and sorrows. Traveling is not just about indulging in delicious food, admiring scenic views, or taking beautiful photos. Through our travels, we have made many good friends, explored new territories, and become aware of issues that we wouldn't normally pay attention to. We have become braver and more interesting people with our own unique stories to tell."
Edit and direct your own videos to create your style
As full-time YouTubers, they manage their channel themselves. Most of the videos are self-shot, except for some footage borrowed from their photographer friends during travel. They learned how to shoot and edit videos through self-study with the help of 'YouTube.'
At the beginning Celine is mostly responsible for the initial editing and timeline, while Cynthia handles color grading. Their collaboration makes things easier, but when they are too busy, they hire a video editor sometimes. The advantage of shooting and editing their own videos helps them reflect on their conversations and content during filming. They believe that shooting and editing are essential processes for new YouTubers, and that practice makes perfect. With 250,000 subscribers to date, they now have an in-house editor to assist them!
Beyond the Scenery: Travel Videos Full of Challenges and Breakthroughs
The reason why I love their travel videos so much is that they are different from the usual travel destination introductions. Have you ever watched travel videos and noticed that most of the time, even if you watch different YouTubers, they all introduce the same popular attractions and food?
However, when I watch Celine and Cynthia's videos, I feel a sense of uniqueness. I can sense their emotions, growth, stories, and even setbacks presented in the videos, which are very authentic and inspiring. Their fearless spirit of 'willing to try anything and take on any challenge' constantly ignites the fire within you
As a "Hong Konger", I would like to express that life here is quite busy from 10am to 7pm, and even after work, there is little time left for cooking or exercise. Sometimes, I just want to take a break and relax by traveling. However, I've come to realize that indulging in food, entertainment, and leisure activities may not be the healthiest way to rest. Instead, nurturing oneself through reading or experiencing travel firsthand is a better way to unwind.
Like Celine and Cynthia, I too enjoy challenges and learning new things. I also envy their lives as full-time YouTubers, and they have become one of my small life goals. You don't necessarily have to become a full-time outdoor YouTuber like them, but their love for nature and fearless spirit are definitely worth emulating – learning how to push past one's limits
Editor's Picks of travel Vlog series
Since I'm a scuba diving enthusiast too, my personal favorites are Celine's series of videos that showcase scuba diving spots and activities, including 'Taiwan's Green Island Vlog', 'Bali Diving Vlog', 'Outdoor Activities Around Tainan', and 'Half-day Underwater Model Challenge', etc. For those who enjoy mountain climbing, I highly recommend her 'Climbing the 100 Peaks of Taiwan ' and 'Taiwan's Qalang Smangus Series', both of which are full of energy. Her latest Iceland series is also very thrilling and worth watching!
In addition, there are also many informational videos prepared for beginners or those who are new to the activity,such as 「自由潛水QA大合集」、「自潛一定要買的裝備?被問100次的超美碳纖蛙鞋好踼嗎?|Celine 自潛裝備大公開」、「爬百岳要哪些登山裝備?我最常被問的登山包、超暖睡袋、登山鞋|Cynthia 私藏裝備大公開」, All of them are very useful information for beginners, providing answers to many common questions.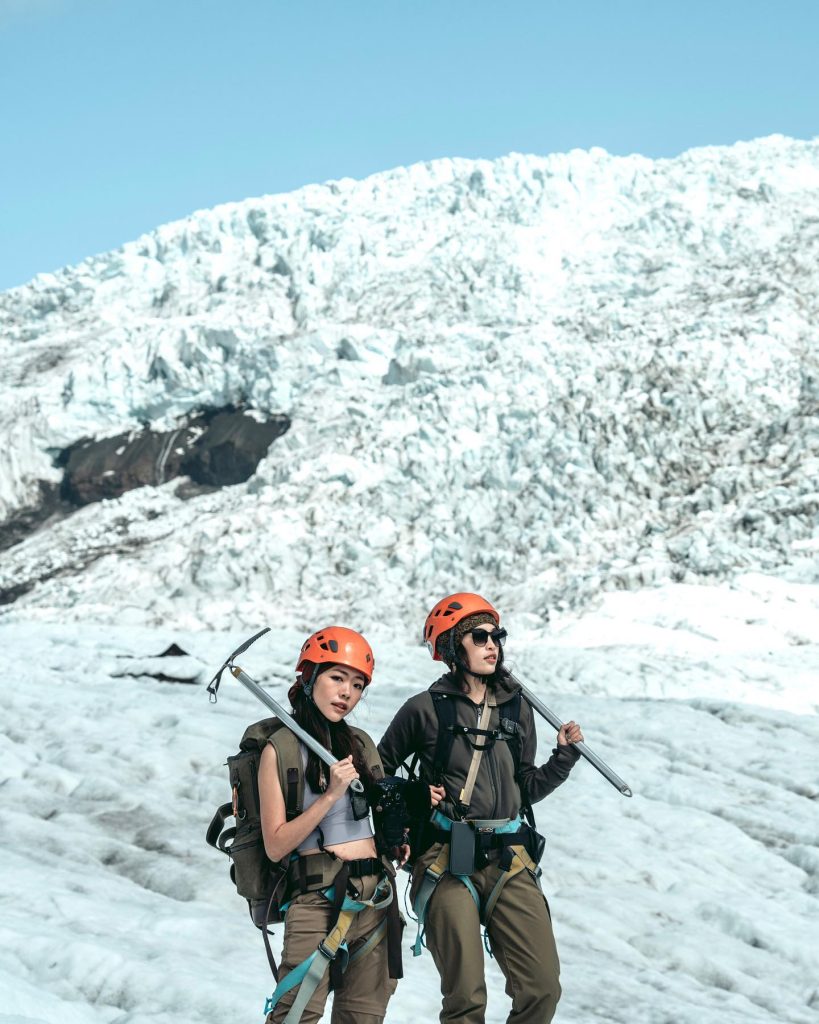 Two of the impressive Vlog series are 「Celine挑戰極限!臺灣盃自由潛水深度賽 (上)」and 「我的人生第一場自由潛水比賽!一口氣到底能憋多久?挑戰一口氣游100米! 環太平洋自由潛水泳池賽 Vlog」which is highly recommenced. While watching the videos, I also get so nervous for Celine that my palms keep sweating.
The feeling of devoting yourself entirely to something is truly wonderful. The effort you put into it will pay off, and the resulting happiness is something that cannot be given to you by anyone else.

CELINE
Celine and Cynthia Mothers are BBOLD Women too!
Besides travel videos and personal extreme challenges, I also impressed by her "heartwarming" series as well「母親節帶媽媽單攻雪山東峰!」and「【戶外母親節特別企劃】帶60歲媽媽挑戰潛水 & 騎馬」 which is the special series for mother's day. Their mothers are really brave too…like mothers like daughters!
Valuing the Support of Collaborators: Why Cherishing Friends and Partners Who Share Your Journey is Key to Success
As full-time YouTubers who collaborate on their content, they occasionally have arguments, but it never lasts longer than half an hour of not chatting. It is because they both realize that they are fortunate and happy to be doing what they love.
Cynthia's words serve as a reminder to cherish our YouTube collaborators, as not many are willing to embark on this journey with us. It's important to recognize how fortunate we are and not take their support for granted. We should take a moment each day to reflect on this.

Cynthia
Being a full-time YouTuber is not only having fun. They also face different challenges, including the pressure to constantly create content and manage their equipment. They can't just stop their work when they don't feel good, especially when they have commitments to their sponsors.
For instance, if they plan to film a scuba diving video, they must commit to it, even if they feel tired that day. However, they have learned to adapt and accept the demands of their work, and face them head-on.
For introverted individuals, how can they confidently connect with people in the outdoor community?
Celine once shared on her channel that despite her desire to learn freediving, she was afraid to try because she is not good at swimming. However, with the encouragement of her friends, she took the plunge and began learning. She believes that even if you dive alone, you will always have classmates, and the key is to start by learning from professional groups or coaches. Even commercial activities are suitable, as long as there is a professional team. By participating, you will gradually get to know more people in the diving and outdoor communities, and make new friends.
Similarly, Cynthia's first experience with mountaineering began with a friend inviting her to join a hiking group. Initially, she followed a particular friend on most of her hiking trips in the first year, but eventually, she played more and met many new people.
In my opinion, fear often holds us back, but taking the first step is the hardest part. Once you do, new experiences and learning opportunities will open up to you. By improving your skills, you'll have no time to be afraid, and focusing on how to improve yourself. This is the "bravery training" of traveling and outdoor sports! If you haven't checked out Celine and Cynthia's amazing travel vlogs, you're missing out!
Photo & Data source:Celine and Cythia – 不只是旅行