After spending a couple of years working in the real world, you gain some experience on the job and in love. But during this time, urban women may face various confusions and doubts about life, work, relationships, and family, causing them to worry about their future. Facing these worries alone can be tough, so it's important to remember that good girlfriends are there to share the burden. When feeling overwhelmed with negative thoughts, what you may need most is to indulge in a delicious and sweet afternoon tea with your closest girlfriends.
When it comes to emotional support, 
good girlfriends are usually the most reliable source
Women are often perceived by some male friends as having complex thoughts, being too imaginative, and overly sensitive. When it comes to discussing their thoughts on the future and plans for life with their boyfriends, it can be a difficult topic for female friends in relationships. This is often due to a lack of confidence and insecurity about the future, which can be amplified by social media and societal pressure. As a result, women may feel lost and uncertain about their current situation.
Seeking advice from male friends about their lack of confidence and anxiety about life can result in practical and specific suggestions or objective analysis, but may not fully address their underlying insecurities. For example, when dealing with work stress, a male friend may suggest methods for reducing stress or taking more breaks, but women who lack confidence may continue to question their abilities.
However, when women discuss these same issues with other women, they often receive immediate encouragement and reassurance that they are doing great, and that they can always vent to their girlfriends over a meal if they are feeling stressed. This support can help boost their confidence and provide a sense of comfort during difficult times.
When someone tells you 'you're doing great, you've worked hard,' you may feel like you need external validation, but what you really need is to acknowledge your own strengths and abilities." – Editor Michelle
One of the unique aspects of female friendship is that whenever you feel insecure or down, your girlfriends will always encourage and remind you of your strengths and unique qualities, giving you heartfelt "validation." The support of good girlfriends can make you feel supported and help you regain confidence in your abilities and trust in your future self, even when you lack self-confidence.
Women who have been working for a few years often face a common pressure and dilemma in their personal lives, aside from work-related stress. This pressure comes from the question of whether or not to get married. As women approach their late twenties and early thirties, it's a common age range for marriage, and the more people around them who are getting married, the more they examine their own relationship status. When it comes to life-long decisions, good girlfriends can empathize and understand the pressure you're under. Communicating thoughts and opinions with someone who understands can provide a sense of companionship and reassure women that they're not alone in facing such pressures. Instead, they have a sisterhood of friends who are always there to support them.
Enjoying an afternoon tea session 
to help women unwind and let go of their worries
When faced with stress and negative emotions, it's better to share them with close friends and arrange an afternoon tea session to catch up on each other's lives. Listening to a female friend's perspective on life or planning each other's future can provide unexpected insights and alleviate self-doubt.
Each woman is unique with her own path and goals in both work and love. There's no need to conform to society's expectations and put oneself in a box. When feeling lost, take a break and arrange an afternoon tea session with friends to discuss your worries in a relaxed setting. Good friends will naturally guide you and help you understand your inner desires and goals while letting go of doubts about your own ideas.
An afternoon tea session can be a perfect way to relax and unwind, particularly if you choose a cozy and welcoming cafe with a menu that features exciting and tempting items. During the refreshing spring season, why not arrange a meeting with your girlfriends to update each other on your lives and share your thoughts? While it's often assumed that women only chat about gossip when they get together, I believe that women can offer each other tremendous support and empowerment beyond just idle gossip.
Afternoon tea selections 
that will make your heart soar with delight
An afternoon tea session can be a wonderful way to refresh your mind and body, especially if you choose a cozy cafe with a menu that looks tempting and exciting. Why not take advantage of the refreshing spring season and arrange a meeting with your girlfriends to catch up on each other's lives and share your thoughts? While it's often assumed that women only gossip when they get together, I strongly believe that women can provide each other with invaluable support and empowerment that is truly uplifting beyond just idle gossip.
FINDS X Tea Chateau
FINDS, a Nordic restaurant, offers a unique tea-themed suite experience, featuring a delicious afternoon tea with a variety of tea-infused delicacies. The menu includes items such as foie gras terrine with rose jelly, smoked salmon tart with osmanthus oolong foam, Icelandic shrimp with trout roe puff pastry, Japanese salted cherry blossom lollipop, and milk pudding with starry sky and butterfly pea flower. The tea selection includes rose tea, osmanthus oolong tea, aged tangerine peel pu-erh tea, butterfly pea flower tea, and cherry blossom tea.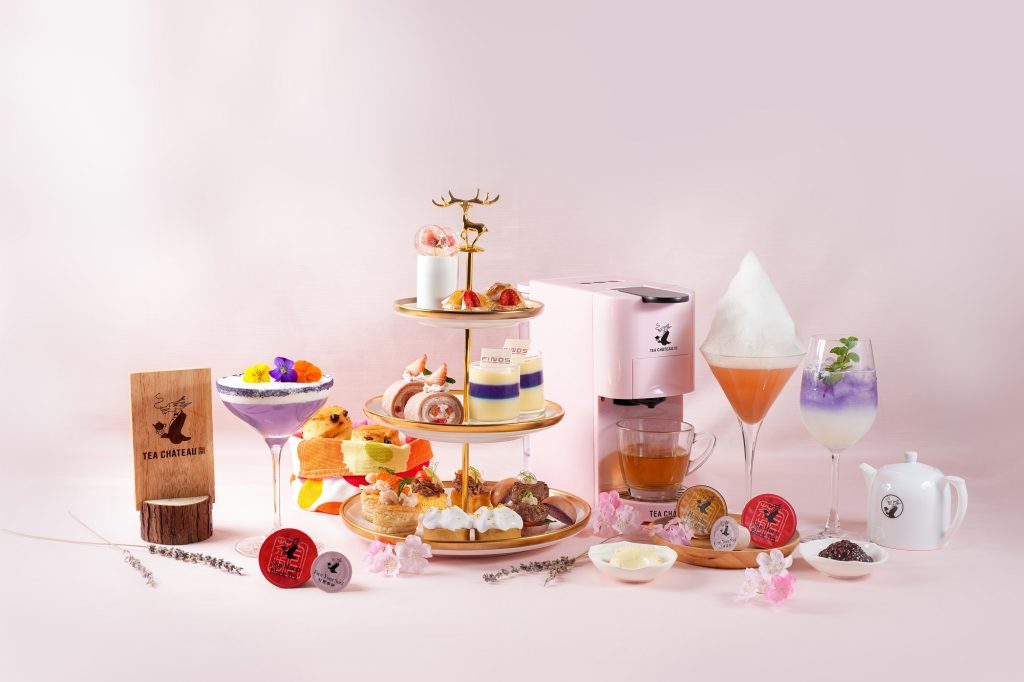 Pretti5 X Pier 1929
Pier 1929, a restaurant perched in Wan Chai with breathtaking views of Victoria Harbour, has teamed up with local skincare brand Botanic Pretti5 to introduce an elegant afternoon tea set. In addition to the 12 savory and sweet treats included in the set, guests can enjoy unlimited refills of six selected items! The chef's recommendations include their beloved tiramisu, crispy foie gras toast, and smoked salmon flower biscuit, all perfect for sharing with close friends.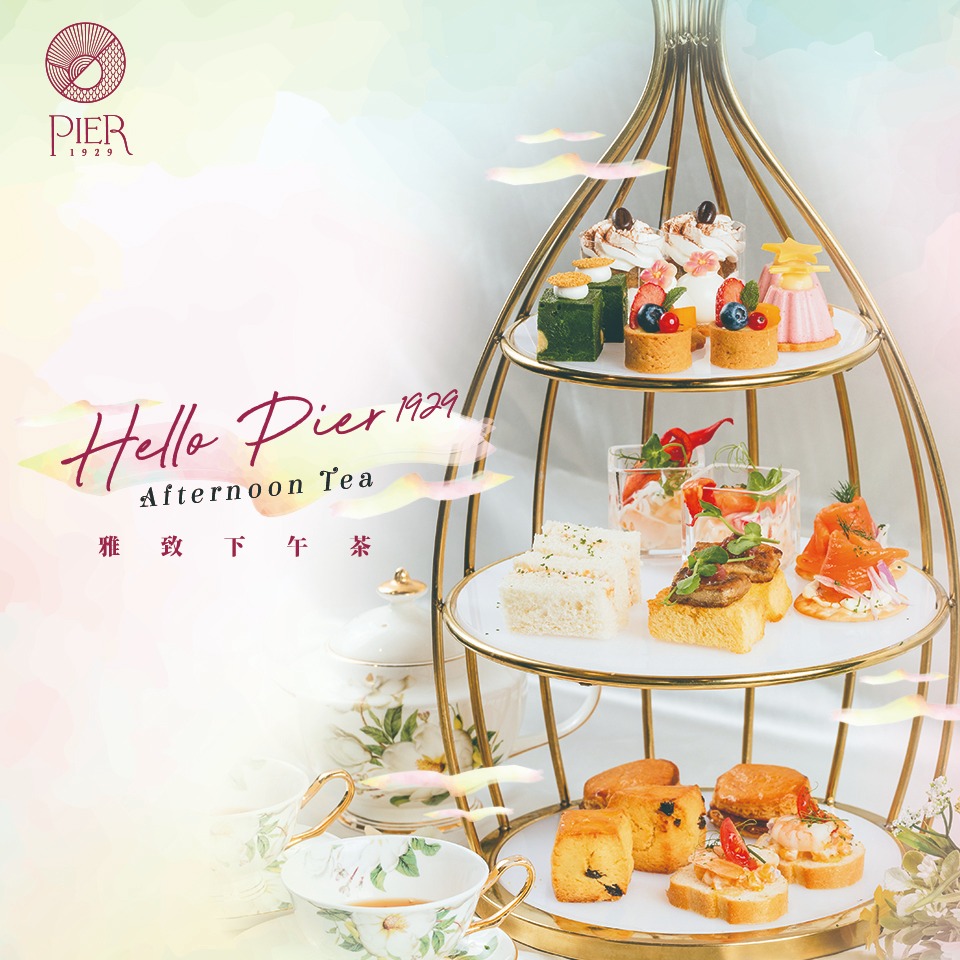 Shangri-La Hotel
'Aura Radiance' Afternoon Tea
Kowloon Shangri-La, Hong Kong collaborates with Korea's first natural fermentation skincare brand su:m37˚ this early summer and launches the 'Aura Radiance' Afternoon Tea at the Lobby Lounge from 1 May to 30 June 2023. An array of fine and shimmering bites infused with vivid summer colours to reverberate the beauty philosophy of su:m37˚.
During our inexperienced student years, the tradition of afternoon tea may have been lost on us, and the cost may have been too high. However, as we advance in our careers and accumulate life experiences, our standards for quality of life and taste increase. The experience of enjoying an English afternoon tea not only showcases our sophistication as women but also offers an opportunity for us to share our feelings and strengthen our friendships.
Data Source: FINDS、Botanic Pretti5、Kowloon Shangri-La
Image Source:FINDS、Botanic Pretti5、 IG@foodieyanyannn