"NO TIME TO WRITE" Thank you for watching…
Wait!!!! It was just kidding.
This season's SS24 Milan Fashion Week was in full swing, and on the final day, it was the turn of the emerging Italian fashion brand AVAVAV to take the spotlight. However, this finale turned out to be the most chaotic fashion show in history. Rumor has it that the models rushed onto the runway before even getting dressed properly, with accessories falling off, clothes tearing, messy makeup and hair… They even had to run down the runway. It was a complete fashion week mayhem!
This fashion show was undoubtedly a nightmare for every designer on Earth. Before the show started, a staff member went on stage to stick the brand name "AVAVAV," but they did it with three cheap sticky notes bearing the brand name in big letters, and then it was discovered that they accidentally stuck an extra one, so they had to rush back on stage to tear it off.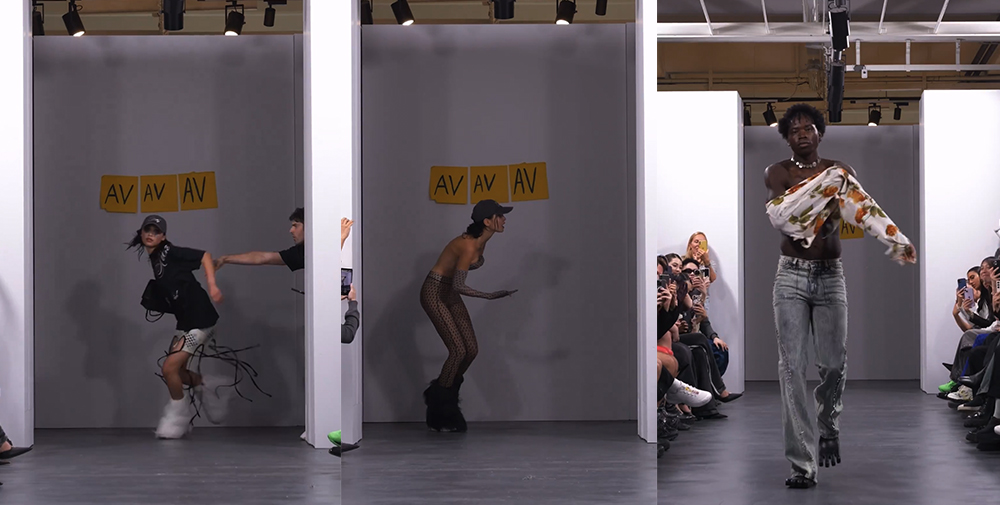 The real drama unfolded as all the models hurriedly walked the runway, as if saying, "I came in a rush, and I'm leaving in a rush." Their hair and makeup weren't properly done or changed, and some of them didn't even have their clothes on properly.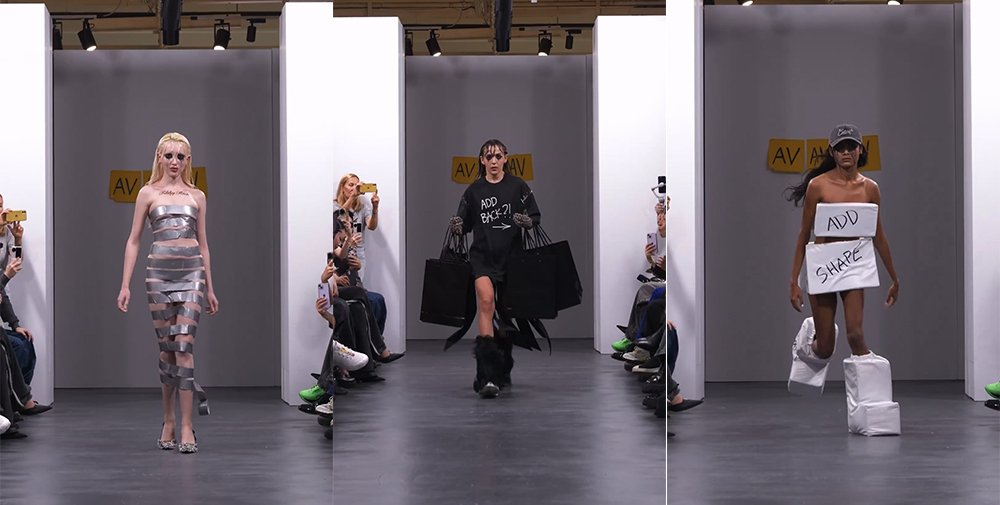 Some models appeared with clothes wrapped in tape. Even half-finished pieces with annotations like "ADD BACK?" and "ADD SHAPE" were brought onto the runway. It was truly bewildering.
This disastrous show was actually the creative director Beate Karlsson's interpretation of the design theme for SS24 Milan Fashion Week: "NO TIME TO DESIGN. NO TIME TO EXPLAIN." It was a satirical commentary on designers rushing through the never-ending schedules of fashion weeks, starkly presenting the everyday pathologies of the fashion industry. Beate Karlsson wanted to convey the message that "the progress can't keep up with the schedule," and that this level of rushing within limited time is considered reasonable, right?
Alright, I need to submit the next article quickly… Goodbye~
Photo source: Instagram@AVAVAV