Liking something can be expressed in different ways – calmly or passionately. However, not everyone may understand the reasons behind it, just like with love. For those who love the world of anime and manga, there are many ways to show their affection. Some collect models, others draw anime characters, and some Cosplay, dressing up as their favorite characters. However, compared to other forms of expression, Cosplay may be more easily misunderstood and negatively perceived by the public.
As three-dimensional beings in the real world, it can be difficult to merge with the characters of the two-dimensional world, causing a sense of detachment or discomfort for others. But in reality, they are just people who have a simple love for anime. We invited a young and lively Coser named You You, who has been Cosplaying for 14 years without even realizing it. She has gone through various stages of being a Coser and has been able to persist for 14 years not only because of her love for it but also because of her personal growth and bravery in pursuing her dreams, which has led her to become a happy and fulfilled person.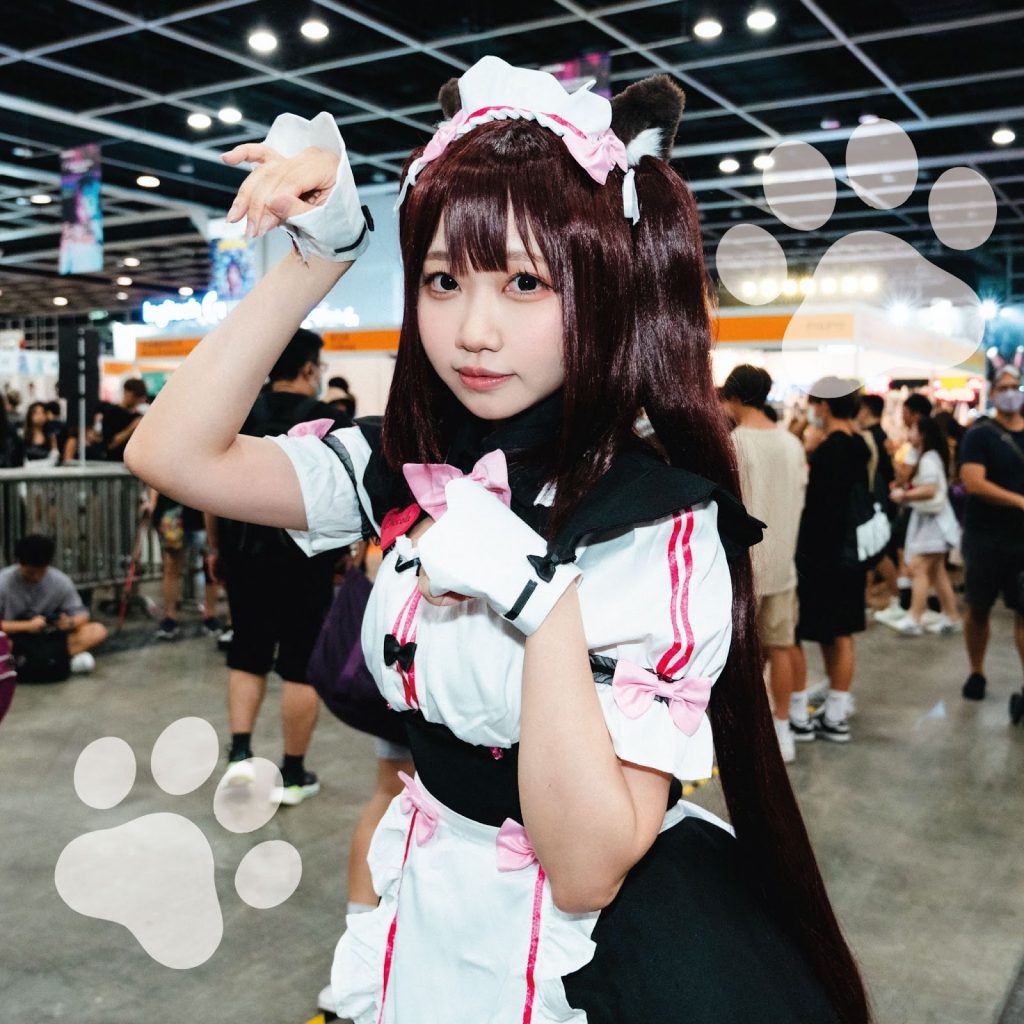 Passion for something can be a driving force
Whenever we ask You You about the reasons behind her Cosplay and how it brings her happiness, she always unconsciously mentions how much she truly loves it. This shows her pure and simple affection, which is a powerful driving force that can help you break out of your own limits and dedicate yourself to what you love.
When You You first started Cosplaying in middle school, her family had very limited pocket money, which barely covered the basic expenses of food and transportation. But she was already in love with anime, so she saved money by going to the famous "shopping paradise" in Sham Shui Po. There, she carefully selected Cosplay fabric, accessories, and decorations from shop after shop on the three cross streets of Yu Chau Street, Ki Lung Street, and Tai Nan Street, and even sewed her own clothes.
Yau Yau describes herself as lazy on a regular day, enjoying reading manga at home. However, when it comes to preparing for a Cosplay, she transforms into a hardworking perfectionist, striving to embody every character perfectly and inject their soul and essence into her portrayal. This is her principle as a Coser paying tribute to the characters.
Adoration for something can be a persistence.
Chasing her dreams with limited funds did not discourage Yau Yau. She has a close relationship with her family and values their opinions greatly. At first, their opposition to Cosplay made her feel misunderstood and upset.
"In fact, I understand deep down that my family opposes it because they don't understand what Cosplay is. When they first found out, I had to spend a lot of time explaining it to them. But at the time, Cosplay was still a niche interest in society, so it wasn't easy for them to understand and accept it right away. I knew it would take a lot of time and effort." Yau Yau understands that her family loves her, so even though her parents don't fully understand the world of anime, she still shares her Cosplay experiences and photos with them in the hope that they will gradually understand her.
In the 14 years since she started Cosplaying, her parents' attitudes have softened over time, shifting from opposition to an open attitude, and then to partial support. They have witnessed her persistence and passion for Cosplay and gradually come to understand the happiness it brings her. Her daughter's happiness is the most important thing. Yau Yau's persistence has unknowingly changed her parents' perception of Cosplay.
Fondness for something can be a breakthrough.
While her parents' opposition was eventually transformed by her unwavering passion for cosplay, negative comments and insults from others were harder to bear and even caused her to fall into a low point, causing her to pause her cosplay activities for two years.
As a child, she was somewhat introverted despite appearing lively, and had a rather self-deprecating side. During her school years, she didn't dare to tell her new friends that she liked cosplay and particularly hid her identity as a Coser, fearing they would judge her or look at her differently.
Since starting part-time work, her colleagues sometimes didn't understand her love for cosplay and advised her that it was a waste of money and time. At the same time, when she began managing a Facebook page, she occasionally received negative comments and reviews. At one point, she began to doubt whether she should continue and eventually stopped cosplaying for a year or two. She thought she would never cosplay again.
But two years later, when she saw cosplay friends and anime characters, the flame in her heart was like a constant knocking, urging her to "come out" again and not regret it. During this "resting" period, she learned that even if others don't understand you or have any opinions about what you do, you should still persist in doing what you love. And because of her mental growth, she decided to become a Coser again and continue this identity that made her happy.
Love for something can be happiness
Now, Yoyo has found her own place and value as a Coser, which has given her a stronger sense of self and the ability to persist in cosplay despite any opposition from her family, friends, or the public. This has also allowed her to enjoy cosplay with a more mature perspective.
On August 6, 2023, Yoyo was invited to participate in the Tokyo Gravure Idol Festival 2023 in Odaiba, Japan. As the first Hong Kong female artist/Coser to be invited, Yoyo shared that she was both nervous and excited about the event. Afterward, she took to social media to express her happiness at having Hong Kong friends come to see her and how thrilled she was to meet new friends from Japan!
Yoyo also encourages those who want to try cosplay: "Don't overthink it, just go for it and try it once! You'll get hooked. I'm also excited for everyone to join the cosplay family!"
Let's subscribe our youtube channel to learn more: 【WHY NOT BOLD】愛上Cosplay14年|每次出COS不只穿上動漫服裝 更是穿上了角色靈魂 | 人物專訪 Coser – 幽幽
Data Source:IG@yau_yau_chan