Everyone loves to eat, drink, and have fun. Going to a bar to drink can be a way to taste wine and enjoy a night out, but the stereotype of bars being "male-friendly" is still prevalent in society. Women who frequent bars are often negatively stereotyped. As women who love to drink and appreciate good wine, how can we find a comfortable and enjoyable place to freely enjoy the pleasure of being tipsy? This article will also recommend elegant and luxurious bars where women can drink to their heart's content.
Is it difficult for women to drink freely and comfortably in bars?
At the level of parental education, bars were seen as chaotic places, which was indeed the ironclad reality of the 80s and 90s. Back then, when information technology and cultural development were not yet mature, women could only "avoid" danger. However, in modern society, despite its development, women still cannot drink freely and feel at ease when going to bars.
Why is the relationship between women and bars always equated with "danger"? There are cases of strangers hitting on women, people secretly spiking drinks, and vulnerable drunk women becoming easy targets. These situations do exist. For guys, bars are a place to drink and socialize, but for women, it may not be a place where they can enjoy drinking and feel safe. Does this mean that women cannot enjoy a favorite cocktail and have a good time with their girlfriends?
Is it a woman's fault for drinking alcohol despite knowing the dangers?
Whenever a girl encounters injustice in a bar, there is always a voice in society that scolds her, saying "you expected danger when you hang out at the bar!". This is a realistic yet terrifying idea. In the face of social injustice, blaming women instead of supporting them is a form of "blaming the victim".
In the face of potential dangers that women may encounter when going to bars, it is indeed necessary for women to be vigilant. Bars have not yet become a place where women can drink freely and comfortably. However, you cannot predict all dangerous situations and easily avoid them. What we need to reflect on is when and where society can provide women with a safe, comfortable, and enjoyable drinking space, where they can have fun with their girlfriends without fear.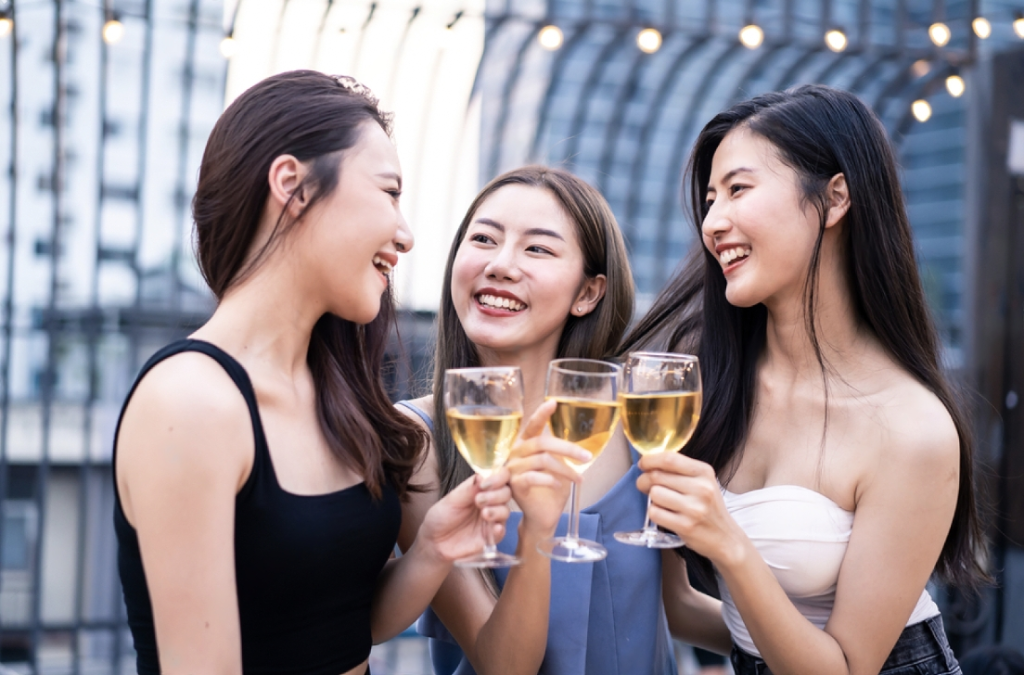 Women who love to drink are not necessarily reckless
Taking a step further, in terms of interpersonal relationships, the relationship between women and bars still seems to be a cause for concern. Even in relationships, boyfriends are mostly not comfortable with their girlfriend going to bars to drink with friends or other people. They are always worried that something might happen. Of course, roles can be reversed, and women may also worry when their partners hang out to drink.
Drinking should also be a ritual! 
Cocktail bars perfect for a women night out
For women who love to drink and enjoy tipsy heart-to-heart conversations with their besties, there are definitely options available. Although the speakeasy exclusively for women, XX Bar, has closed down, there are still many cocktail bars that are suitable for women, with thoughtful designs and environments that can put them at ease.
Dr. Fern's Gin Parlour
One such bar is themed around a botanical laboratory, with designs that resemble a plant lab, filled with various bottles of different sizes. The bar specializes in various gin cocktails that can relieve stress and fatigue, with the bartender playing the role of a psychiatrist, creating the perfect cocktail recipe to soothe your worries.
The Iron Fairies
Designed by famous Australian designer Ashley Sutton, The Iron Fairies is a bar themed around a magical fairy tale, with steel and wooden products, artisanal tools, and primitive mechanical decorations as its main elements. The ceiling is adorned with countless handmade butterflies, creating a stunning atmosphere. Their Signature Smoke in a Bottle cocktail is full of mystery, and perfectly complements the dreamy atmosphere of the bar.
Quinary
Ranked 56th in the 2022 World Bar Ranking, Quinary is definitely worth visiting for tasteful women to enjoy a drink and a women Talk with their besties. They offer specialty molecular cocktails, with their most popular being the Earl Grey Martini. The Martini has a strong aroma and taste, and is less sweet, making it suitable for women who don't like sweet drinks. Made with English Earl Grey tea, orange liqueur, syrup, and grapefruit vodka, the taste is surprising and perfect for women who truly love drinking.
Stockton
Stockton is a bar themed around luxurious bars in London during the 1900s. The environment is designed with gentleman leather furniture, reminiscent of the Edwardian era, creating a retro and elegant atmosphere. Get ready for a night full of ceremony, with over ten creative cocktails that will leave you mesmerized, both in terms of the glasses used for the cocktails and the creative flavors they offer. You can also order traditional Scottish eggs to go with your drink, which are delicious and fragrant. In addition, they offer exquisite desserts such as Sticky Toffee Pudding and Carrot Cake, perfect for women with taste and a certain lifestyle attitude to slowly savor.
With more themed bar options available, women can relax and enjoy a few drinks with their friends, while feeling more at ease and confident in admitting that they are ladies who love drinking and appreciate good cocktails.
Information and  source:Stockton、Quinary、Dr. Fern's Gin Parlour、The Iron Faries