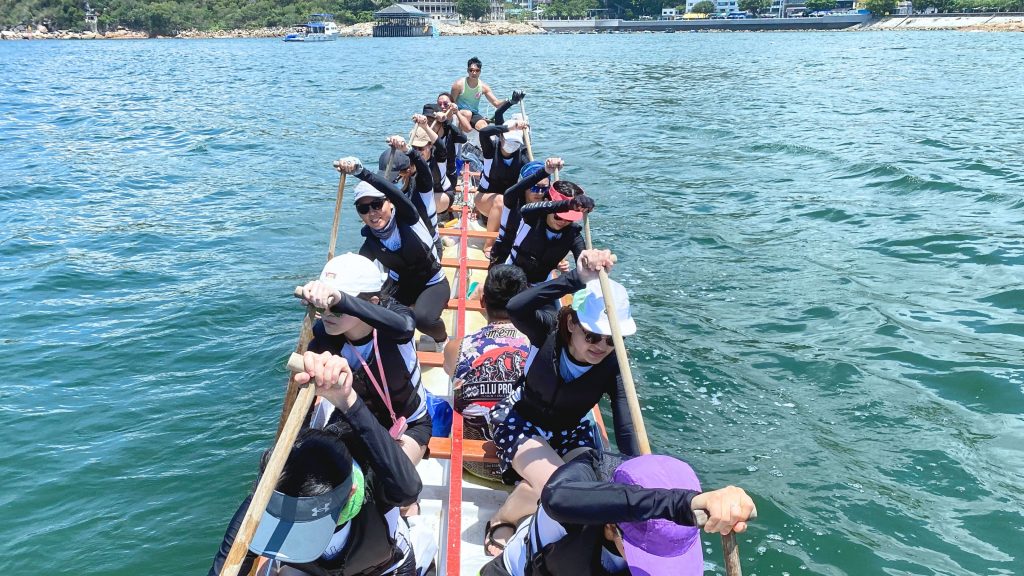 May brings the early summer heat and reminds us that the Dragon Boat Festival is nearly upon us, with its exciting and intense dragon boat races that take place every year! I recall a few years back, whilst chatting with my colleagues about my nerves regarding the start of diving season, a seemingly reserved female coworker sitting opposite me at my computer mentioned that she had recently arranged to "paddle a dragon boat" with a group of friends. I was taken aback and responded, "Wow, that's fantastic!" It was then that I realized that even someone like myself, an ordinary woman working in advertising, could form a dragon boat team and experience the thrill of racing.
Is it true that women were once not allowed to touch dragon boats?
The tradition of dragon boating in Hong Kong dates back to the early days of the city's development, when fishermen would paddle their boats to various temples to pray for blessings from the gods. Paddling the dragon boat was believed to bring strength and good luck to the community, and it wasn't initially a competitive sport. However, as society developed in the 1960s and 1970s, dragon boat races began to take shape. People from different areas would organize races and invite other dragon boat teams to participate, using the events as an opportunity for exchange and development of the sport.
All-female dragon boat experience classes – dare to challenge yourself!
Today, the Dragon Boat Festival is a well-established and exciting event that brings people together to celebrate the spirit of competition, community, and tradition. Whether you're an experienced athlete or new to the sport, racing a dragon boat is an unforgettable experience that you won't want to miss.
Currently, there are more organizations offering dragon boat experience classes for women, providing more opportunities for them to try the sport. For instance, MERRY SWIMAS, a swimming society in Hong Kong, offers dragon boat experience classes for women, and the all-female teams are filled with enthusiasm. One participant exclaimed, "It's so much fun! We're a unified and supportive group of women. It's an amazing experience!" In the past, dragon boat classes were mostly led by male coaches, but in recent years, a few female coaches have been added to provide more personalized advice and teaching to female students facing difficulties.
As someone who has never tried dragon boating, I always thought it was a sport that required a lot of physical strength and endurance. Although formal training can be challenging, the Hong Kong swimming society assures that their dragon boat experience classes for women are designed to be less intensive and demanding. The primary goal is to enable more women to have access to dragon boat sports, so the classes are suitable for beginners and those with less experience.
The Hong Kong swimming society's intention for offering women's dragon boat classes is to provide an opportunity for women to try a water sport that doesn't necessarily require swimming skills. Of course, safety is a top priority, and participants are required to wear life jackets regardless of their swimming ability. Additionally, dragon boating is a team sport that emphasizes cooperation, coordination, and teamwork. The society hopes to bring women together to participate in this sport, even those who are afraid of water, to challenge themselves on the sea.
With the support of others, the Hong Kong swimming society hopes to encourage more women to take the first step, overcome their fear of water, and participate in this exciting water sport.
"Dragon boating unites hearts towards a common goal, bringing immense satisfaction and success!" – Hong Kong Swimming Society.
Women's high coordination skills are beneficial in learning how to exert force
During dragon boat experience classes, female students learn the same paddling techniques as their male counterparts. The Hong Kong Swimming Society notes that women often have less physical strength and smaller physiques, requiring higher coordination skills to paddle the boat effectively using their entire body. In contrast, men tend to have better muscle strength and may rely on arm strength alone when starting out.
Once students master the basics, they can improve their performance by learning to use their entire body to paddle the boat for greater speed. Women may need to paddle with longer strokes due to their shorter limbs and must maintain high levels of synchronization with their teammates for efficient paddling movements.
Although female dragon boat students may have less physical strength than their male counterparts, they often outperform them in body coordination and teamwork skills. Through adequate strength training and mastering the technique of using their entire body for paddling, female students can keep pace with men.
Dragon boating is one of the few sports that doesn't require swimming skills to participate, but safety precautions like wearing a life jacket are necessary for everyone. As a team sport, dragon boating can bring the strengths of women together. With the encouragement of their teammates, even women who are afraid of water can find the courage to participate in water sports. The process of working towards a shared goal in dragon boating is incredibly fulfilling and brings a sense of achievement.
"When you give your all and work towards a common goal with your teammates, you don't need to be a professional athlete. Even small improvements, progressing from zero to one, can boost your self-belief and confidence," by editor Michelle.
One female student at the Hong Kong Swimming Society who left a lasting impression was a non-swimmer who was terrified of water but decided to join a dragon boat team. She had always enjoyed being near the sea but had never dared to overcome her fear until she successfully paddled a dragon boat, which motivated her to learn how to swim.
Certificate training to become an official dragon boat paddler
Dragon boat training courses offer three levels – beginner, intermediate, and advanced – as well as Level 1 and Level 2 helmsman certificates, for those seeking certification. Women's dragon boat competitions usually involve an "8+1" team.
For those looking for a new challenge and physical fitness, try hopping on a dragon boat during the summer season. The editor was impressed by her colleague's dragon boat participation, praising her bravery and style. Both women noticed a significant improvement in their skin tone after joining the team. Although tiring, it was a fun experience that often left them dozing off after practice.
After a four-year hiatus, the Hong Kong International Dragon Boat Races will return on June 24th and 25th at Tsim Sha Tsui. Although registration has closed, you can still take experience classes to prepare for next year's race.