June, the Pride Month, resonates internationally as a symbol of love and freedom. Brands and every nook and cranny are adorned with rainbow flags, representing gender equality, creating a vibrant atmosphere.
Yet, Hong Kong seems to fade into insignificance.
LGBTQIAP+
The LGBTQ+ community, a vibrant tapestry woven with the threads of lesbians, gays, bisexuals, transgender individuals, and queers/questioning individuals, has been an ever-evolving force. As time dances forward, its composition expands gracefully to include intersex individuals, asexual souls, pansexual beings, and the resilient "+" symbol, eternally embracing all who seek belonging.
The history and origins of Pride Month gleam like a treasure trove, effortlessly discovered within the digital labyrinth of knowledge. With each step society takes towards progress, the chorus of enlightenment grows louder. Amidst a multitude of symbolic events, the Pride Parade stands tall, an extraordinary spectacle where sexual minorities rise to claim their rights and amplify the ideals and messages of the LGBTQ+ community. From June to July, parades dance across nations like harmonious rhythms. Paris, adorned in elegance, hosts France's parade on June 24, while London graces itself with pride on July 1. Across the vast expanse of the United States, the celebratory baton passes through various states—Los Angeles on June 12, San Francisco on June 25, and New York on June 26. In the embracing embrace of Vancouver, Canada, a two-day celebration on August 5-6, while Taiwan's resonates in late October.
Yet, Hong Kong, once a November sanctuary, finds itself cloaked in contrast. Transformed into a bazaar by the currents of pandemic and environmental factors, its vibrant tapestry awaits a moment of resurrection. A flicker of hope, revealed through a quick online search, reveals the organising committee's patient stance, waiting with bated breath for the possibility of this year's celebration.
In this juxtaposition, the truth emerges with undeniable clarity—understanding and acceptance, two ethereal entities that intertwine like celestial partners, remain distinct.
Let us delve into the proclamations of prominent brands. Social media, the swift messenger of our times, reveals a surprising dearth of entities adopting the "rainbow avatar" emblem. While some may dismiss the act of avatar modification as mere marketing ploys, it undoubtedly signifies a deliberate expression of stance and target audience by these brands.
Consider, for instance, the case of Nike. In solidarity with Pride Month, they unveiled the exclusive Be True collection—a testament to their unwavering support. Yet, within the vibrant tapestry of Hong Kong, this symbolic offering remains conspicuously absent, like a stroke left incomplete on a canvas.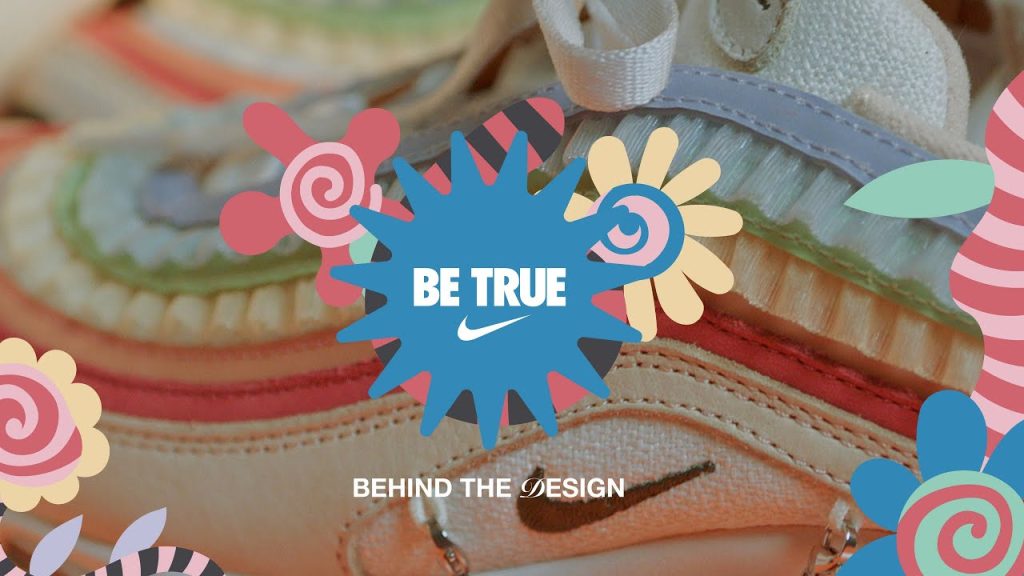 Amidst the festivities of Hong Kong celebrating the 150th anniversary of the iconic 501 series, the American version of Levi's proudly announces their annual contribution of $100,000 towards LGBTQ+ fundraising.
Since 2015, Converse has been a steadfast advocate for equality, yet while their international version sports a vibrant rainbow avatar, the Hong Kong edition remains confined to a monochrome palette of black and white.

These disheartening disparities weigh heavily, casting a shadow upon the journey of Hong Kong's LGBTQ+ community. While neighboring Taiwan stands tall as a beacon of progress with the historic legalization of same-sex marriage in 2019, the path towards equality within Hong Kong remains treacherous and uncertain, demanding relentless perseverance.
Event Promotions
Amidst the absence of resounding calls to action or overwhelming waves of publicity, there exists a subtle yet powerful undercurrent of support for Pride Month in Hong Kong:
Pride Month Bazaar 2023 by Gay Harmony
o let as much people as we could to celebrate and raise the awareness of LGBT+ communities. Gay Harmony invites more than 60 LGBT+ & LGBT+ friendly shops and organisations to participate in Pride Month Bazaar Campaign 2023 by Gay Harmony. The 4-day bazaar will include more than 100 booths and be held in 2 famous shopping malls. Beside Opening and Closing Bazaar, they are also holding a Pride Month Party with LesChillHey.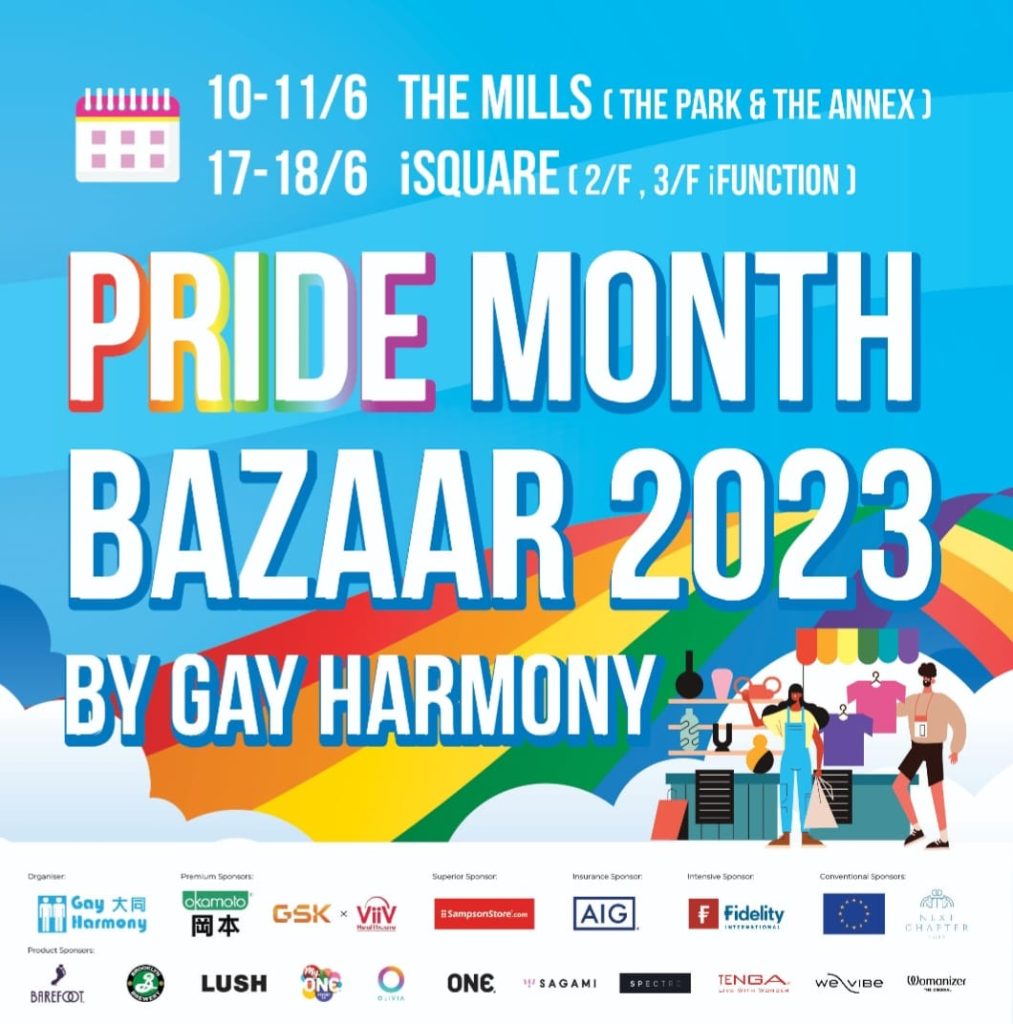 Opening Bazaar
Date: 10 – 11 June, 2023 (Saturday & Sunday)
Time: 12 noon to 8pm
Venue: The Park & The Annex, The Mills, 45 Pak Tin Par Street, Tsuen Wan
Closing Bazaar
Date: 17 – 18 June, 2023 (Saturday & Sunday)
Time: 12 noon to 8pm
Venue: 2/F & 3/F, iSQUARE, 63 Nathan Road, Tsim Sha Tsui
Pride Month Party
Date: 17 June, 2023 (Saturday)
Time: 10 pm to 4am
Venue: Vivere, 11/F, Sugar+, 25-31 Sugar Street, Causeway Bay @viverehk
Ticket: Early Bird $200 |At Door $240(Included 1 Standard Drink)
Website: https://www.instagram.com/p/CrzjTuVPRm8/
Pride in Kwun Tong:LGBTQ+Ally
PrideLab, through a myriad of creative expressions, employs humour and wit to elucidate gender-related issues in Hong Kong. Their mission is to disseminate knowledge about gender theories, fostering education and understanding while promoting social respect and acceptance for all individuals. And now, they are poised to hold a captivating gender cultural exposition that promises to be an extraordinary experience.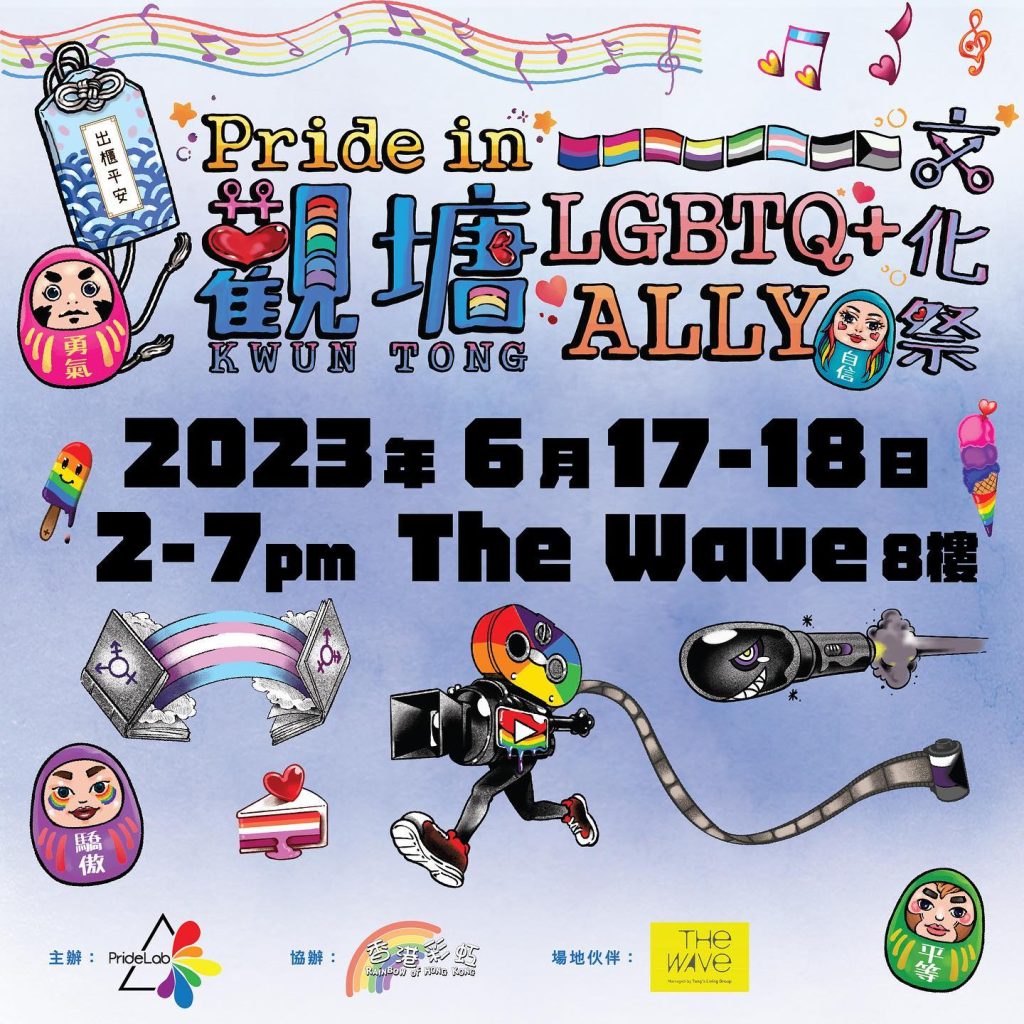 Date: 17 & 18 June
Time: 14:00 – 19:00
Venue: Kwun Tong The Wave 8/F
2023 Hong Kong International LGBT+ Affirmative Practices Conference 2023
LGBT+ affirmative practices are evidence-based therapeutic approaches that effectively support sexual minorities. However, the field of counselling in Hong Kong has limited exposure to these practices, and they are seldom applied in everyday case work.
In order to introduce more counselling professionals to LGBT+ affirmative practices, an academic conference has been organised. Esteemed speakers from the United States, Australia, Taiwan, and Hong Kong have been invited to share their knowledge and experiences.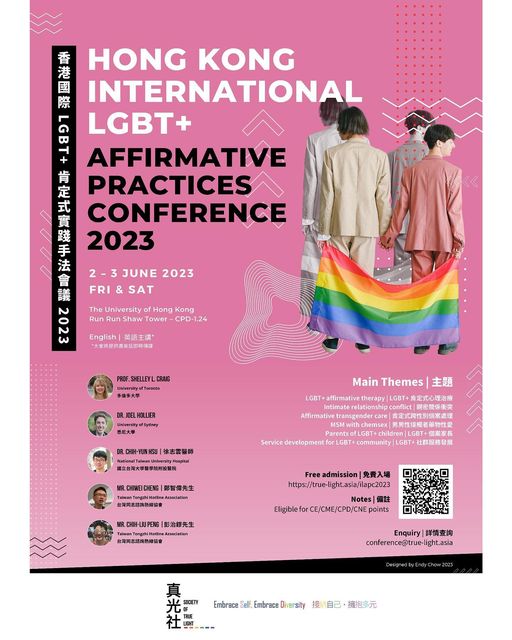 Date: 2 & 3 June, 2023
Venue: Run Run Shaw Tower, The University of Hong Kong CPD-1.24(CPD-1.21 live-stream)
Language: English, Mandarin, Cantonese (with on-site English-Cantonese interpretation services)
Website: https://true-light.asia/ilapc2023 
It is a time to take pride in ourselves and our love, regardless of gender or sexual orientation. Expressing love freely is more than a mere slogan; it is a value we must staunchly defend. It represents a fundamental human right and a cornerstone of respect in a civilised society, symbolised by the vibrant rainbow.
Photo source: Thomas Peter@Reuters, Society of True Light, PrideLab, Gay Harmony, Nike